A great deal of respect is owed to the unassuming hands that toil away behind the scenes, and Josh Nowell of HGTV's "Home Town" is a prime exemplar of quiet and effective craftsmanship. While viewers might not frequently catch a glimpse of his presence on the screen during their beloved episodes of "Home Town," it's certain that he plays a pivotal role in the construction of every renovation. Nowell's artisanal skills often elicit envious admiration from fans as they behold his meticulously handcrafted shelves and furniture, bestowing immense charm and character upon the finished projects.
The show's stars, Ben and Erin Napier, consistently attribute a significant portion of their achievements to Nowell and regularly acknowledge him for his unwavering work ethic and adept project management skills. Although Nowell's woodworking accomplishments are nothing short of awe-inspiring, his capabilities extend far beyond the realm of historical renovation work.
In addition to his multifaceted roles, Nowell is deeply committed to community advocacy and is a successful entrepreneur with interests spanning various industries. Despite these manifold responsibilities, he maintains an admirable equilibrium between his professional pursuits, a harmonious home life, and thriving friendships. The art of balancing a career and family can be a formidable challenge, but Nowell appears to handle his demanding schedule with commendable poise.
With this insight into the accomplished woodworker, let's delve into some intriguing facts you may not be familiar with about Josh Nowell.
Josh Nowell grew up in Laurel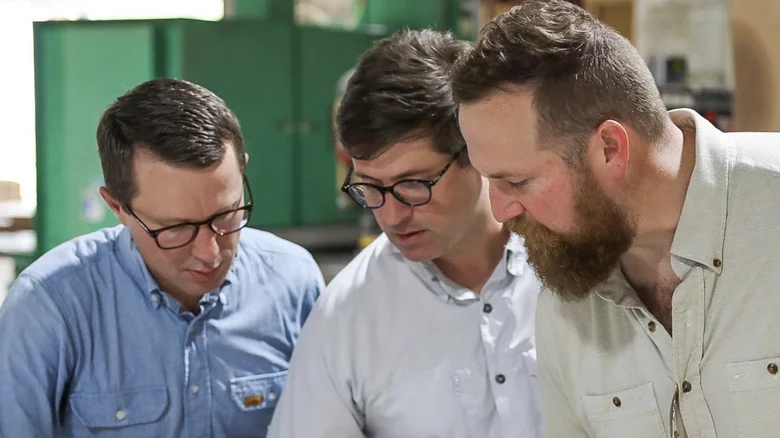 Laurel finds itself nestled within the Pine Belt, a region renowned for its imposing and splendid trees. With a population of around 17,000, Laurel certainly qualifies as a quaint and smaller town, as per the United States Census Bureau. The town's historical roots, as elucidated on its official website, harken back to 1882 when it served as a pivotal center for lumber milling, where the abundant pine trees were meticulously processed and then transported via train.
By the early 1900s, Laurel's lumber milling industry had burgeoned significantly. This deep-rooted connection to wood products provides insight into why Josh Nowell honed his skills as a craftsman.
Laurel envelops itself in the picturesque landscapes that epitomize the quintessential charm of many Southern communities. Stately oak trees, magnificent magnolias, and vibrant crepe myrtles grace the historic edifices that punctuate the town, such as the Lauren Rogers Museum of Art and Laurel City Hall. This sentimental allure fuels Nowell's fervor for preserving the town's rich history through his craft.
His bond with Laurel runs so profound that, after completing his college education and spending his initial years in the workforce, Josh and his wife made the conscious choice to return to Laurel. There, they embarked on raising their family and wholeheartedly contributing to the community that Josh has always called home.
He has a passion for parenthood
Josh Nowell proudly identifies himself as a devoted family man, emphasizing that his role as a parent is one of his most paramount responsibilities. He and his wife, Emily, have been blessed with four children: Irene, Sam, Teddy, and Nora.
In a heartfelt Laurel Mercantile blog post, Nowell openly shares his immense joy in having a large family, while not shying away from the challenges that come with raising children. Within this post, he warmly employs a delightful analogy, likening each of his children's personalities to various types of wood.
Nowell affectionately describes his eldest, Sam, as akin to the soft, pliable, and fragrant cedar, highlighting Sam's accommodating nature and readiness to heed guidance.
For Teddy, the second-oldest, he likens him to well-behaved pine, acknowledging the occasional "knots" in his behavior, but finding it relatively easy to guide him back on course. His first daughter, Irene, is described as "spirited," and Nowell equates her to a resilient and exotic wood, even likening her to petrified wood.
He jestingly remarks, "It's like trying to cut through it with a cutting torch, but once it aligns with you, it's incredibly beautiful." Finally, his youngest child, Nora, is characterized as high-quality oak, characterized by her easygoing and agreeable disposition.
Josh Nowell met his wife on a blind date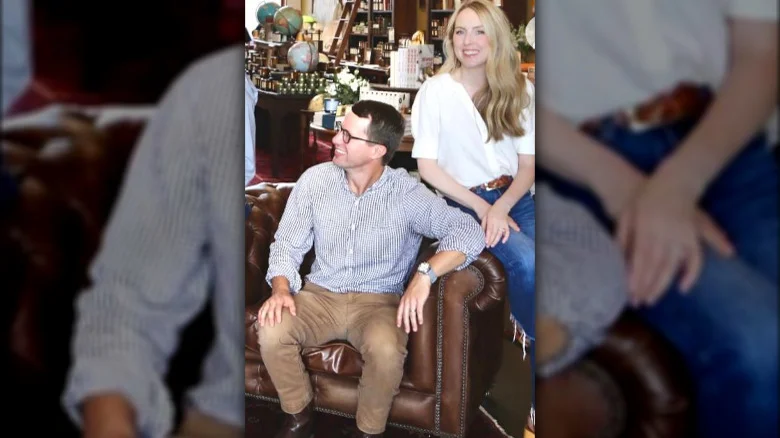 A fascinating facet of Josh Nowell's relationship with his wife, Emily, is the unique manner in which their love story began. They were introduced to each other on a blind date shortly after completing their respective university degrees—Josh from the University of Mississippi in Oxford and Emily from the University of Southern Mississippi in Hattiesburg, which happens to be a mere 40-minute drive from Laurel.
Their encounter proved serendipitous, and it set the stage for a romance that would stand the test of time. After dating for several years, they exchanged vows in 2010, with Erin and Ben Napier in attendance at their wedding.
Erin fondly reminisced about their picturesque autumn wedding in a blog post on Laurel Mercantile, recounting the presence of a fiddle and guitar playing traditional Irish tunes during the ceremony, Spanish moss draping from the grand live oak trees, Emily's elegant arrival to the aisle in a pristine 1957 Packard, and the delightful abundance of delectable treats at the reception. She also celebrated the love radiating from the couple, describing them as utterly smitten.
Presently, the Nowells revel in their roles as devoted spouses, loving parents, and cherished friends, with a shared commitment to nurturing their relationship and prioritizing their family above all else.
Josh Nowell and Ben Napier Met in College
The inclusion of Josh Nowell in the "Home Town" cast might pique the curiosity of some fans, wondering about the origins of his connection to the show. The answer, in fact, is rather straightforward: Nowell and Ben Napier share a history as alumni of Ole Miss, and their enduring friendship took root during their college years in Oxford during the early 2000s.
As detailed on the Ole Miss fundraising website, Now & Ever, Napier and Nowell were not just college buddies; they were roommates who forged a deep and lasting friendship while attending the university.
Their time at Ole Miss left an indelible mark on them, inspiring them to find creative ways to give back to the institution that brought them together. A dedicated blog post on Now & Ever sheds light on the trio's mission, which includes co-owner Jim Rasberry, to contribute to the growth, development, and access to opportunities for Ole Miss students.
One noteworthy project involved acquiring sections of floorboards that would have otherwise been discarded from the university's gymnasium. These reclaimed floorboards were repurposed to create a dining table that found its way onto an episode of "Home Town."
The post reveals that a surplus of wood remained from this endeavor, motivating them to craft kitchen serving boards, available for sale to both Ole Miss and "Home Town" enthusiasts. Importantly, the proceeds from this venture are earmarked to benefit students within the university's School of Business Administration, the Patterson School of Accountancy, and the School of Engineering.
His work on HGTV Hometown
Josh Nowell and Ben Napier's shared passion for woodworking and entrepreneurship dates back to well before "Home Town" even became a concept at HGTV.
A few years after their graduation from Ole Miss, the trio, comprising Nowell, Napier, and Rasberry, along with their wives, Emily, Erin, and Mallorie, ventured into launching Laurel Mercantile Co. Their collective mission revolved around the restoration and preservation of their beloved town.
From the very inception of the company, Nowell has been an invaluable hand in Napier's woodworking projects. This collaboration began when they worked out of the back of a drugstore building, a structure the team had meticulously restored during the initial stages of their business and community restoration efforts.
Given Nowell's intrinsic involvement in woodworking, it was only fitting for him to join the ranks of "Home Town" cast members. While his on-screen appearances are relatively infrequent, the fruits of his labor are almost constantly showcased.
In a blog post on Laurel Mercantile, Nowell fondly reflects on his favorite project featured on the show, the creation of cedar shelves for the Moffett house, which made an appearance in Season 5. He eloquently described the endeavor, stating, "It involved substantial effort, but the end result was intentionally designed, resembling a tree reaching upward along the wall.
This exemplifies the joy of woodworking; you work with a vision in mind, but the wood itself can often inspire you to venture in a different direction."
Josh Nowell has his own business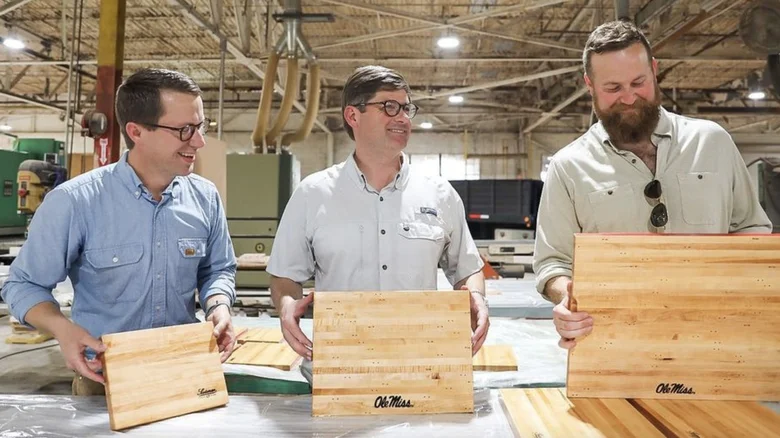 Upon completing his business administration degree, Nowell embarked on his entrepreneurial journey by establishing Petrolia Land Company, a real estate brokerage specializing in oil and gas land services.
Together with his wife, they embarked on travels across the country as landmen, contributing their expertise to the logistical aspects of the oil and gas industry. Their array of services encompassed the crucial tasks of verifying and documenting land ownership, along with the acquisition of oil and natural gas rights.
This initial foray into business ownership not only laid the foundation for the Nowells' subsequent successes but also underscored the skills and acumen they would later apply in the growth and development of Laurel Mercantile Co., their cherished venture alongside their business partners.
While Nowell is indeed a proficient business owner, he openly confesses that woodworking holds a special place in his heart within the Laurel Mercantile Co. In the company's blog post, he acknowledges that their responsibilities within the company are diverse and demanding, leaving them with limited time for woodworking, despite their shared desire to engage in it more frequently.
He reflects, "Ben typically dedicates 12-hour days to filming, while I am generally occupied with business operations alongside our partner, Jim Rasberry. Consequently, neither of us can devote as much time to the woodshop as we would ideally prefer."