Ben and Erin Napier, the HGTV couple, have a heartwarming story that began during their college years. It all started when Erin interviewed Ben for an article in their school newspaper. Little did they know that this initial connection would lead to a deep and lasting bond.
When they're not captivating audiences with their renovation skills on the popular HGTV show "Home Town," Ben and Erin Napier are busy creating a beautiful life together. Their love story began back in 2004, during their time at Jones County Junior College in Mississippi.  Read more as we will discuss this further below!
They first met in College on December 2004
Erin and Ben's love story began during their time at Jones County Junior College in MI in December 2004. Erin shared with PEOPLE magazine that Ben was like a celebrity crush to her.
He was involved in numerous clubs and was well-liked by everyone, yet he is inclusive. The half of HGTV couple, Erin admired his kindness, particularly when she noticed him approaching people who were sitting alone in the cafeteria and joining them at their table.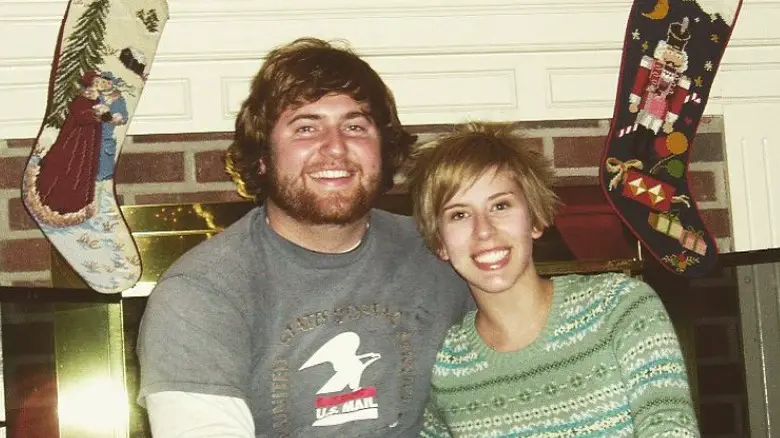 However, their initial connection wasn't instant. Erin recollected a humorous incident in a 2010 blog post where she described crashing and burning during a nervous conversation with Ben at McDonald's. Despite this initial stumble, their paths eventually crossed again when Erin interviewed Ben for the school yearbook.
It was during this meeting that a spark ignited between them. In a remarkable turn of events, just six days after their interaction, the future HGTV stars made the decision to tie the knot.
They had their first date on December 9 2004
After their meeting for the yearbook interview, Ben and Erin wasted no time in taking their connection to the next level. Just a few days later, they had their first official date, a dinner in the charming city of Hattiesburg, Mississippi.
Erin revealed what happened on their first date in a blog post. The half of HGTV couple, Erin, expressed the belief that a key factor in their enduring love, even after 13 years, was their commitment to never forget the exhilaration of their early days together.
According to her, no matter how much time passes or how they may age, they will always remember the version of themselves who first fell head over heels in love, sharing a Nehi (a popular soda) and stealing a kiss at the magical hour of 4 in the morning.
Ben proposed to Erin on September 2007
After three years of being together, Ben decided to propose to Erin in a charming bookstore located in Oxford, Mississippi. The memorable moment took place in 2018, and Erin celebrated this special day by sharing a heartfelt Instagram post. In the post, she uploaded a lovely picture of Ben on one knee, capturing the essence of their beautiful moment.
In the caption accompanying the photo, Erin shared the story behind the proposal, reminiscing about their journey together. She revealed that eleven years prior, a young and determined Ben had diligently saved up money for three whole years. His goal? To surprise her with a diamond ring and a unique, self-made leather bound book.
They got married on November 2008
It was in 2008, where Ben and Erin exchanged vows, officially becoming husband and wife. The HGTV couple decided to settle down in Erin's hometown of Laurel, Mississippi, where they first started their journey that would ultimately lead them to become HGTV stars.
Ben and Erin got married at the beautiful Paris Yates Chapel, located at the University of Mississippi. Their wedding day was a special and joyous occasion.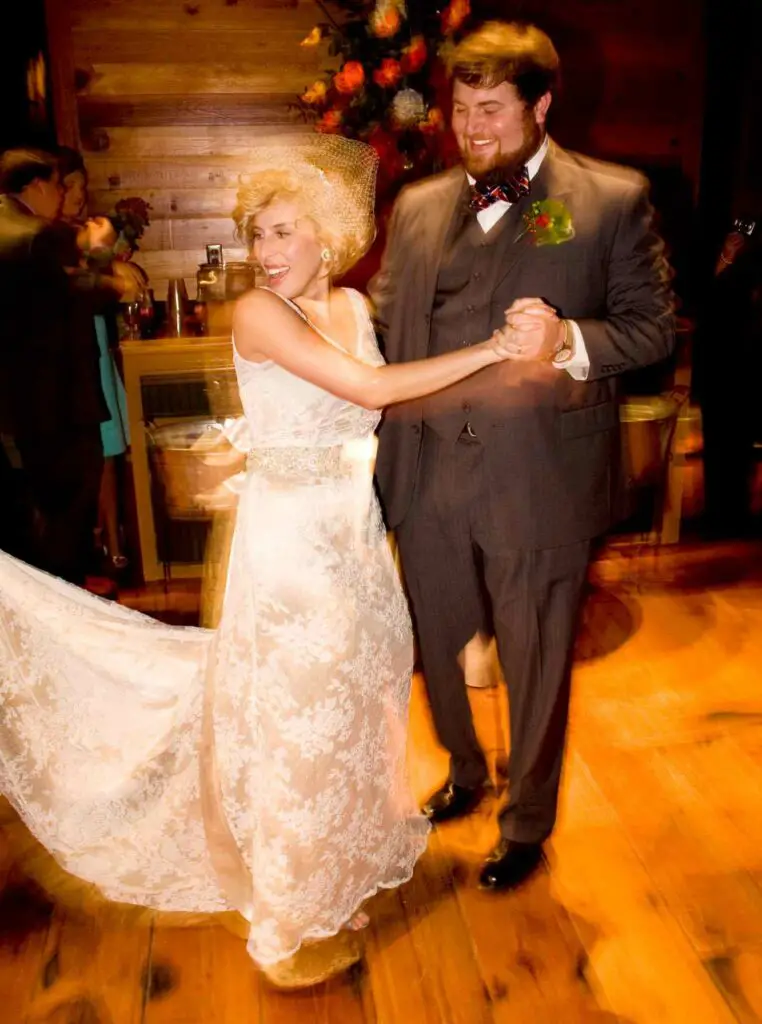 Ben looked dashing in his suit and bowtie, while Erin had two stunning bridal looks. She wore a lovely lace gown for the ceremony and later changed into a charming cocktail dress with frilly sleeves for the reception.
They decided to Relocate on Laurel on 2008
Ben and Erin made the unexpected decision to relocate to Laurel, Mississippi, Erin's hometown. Initially, the HGTV couple had envisioned living in other cities like Memphis, Birmingham, or even the bustling metropolis of New York City. Returning to their hometown carried a perceived stigma of giving up or settling for less, as if they were afraid to pursue big city dreams.
However, Ben and Erin soon realized that choosing to move back to their quiet and familiar town was the right path for them. The other half of HGTV star, Erin expressed that going home could actually be a rebellious act in its own way.
When they were younger, they believed that leaving home would automatically lead to a better life elsewhere, thinking that the grass is always greener on the other side. Yet, they discovered that every place has its own set of challenges.
Instead of simply complaining and seeking escape, they chose to stay and make a positive difference in their community. The Napier couple began their new chapter by renting a loft in Downtown Laurel before eventually settling into a charming yellow craftsman cottage built in 1925.
They decided to share their story to Southern Weddings and capture an Interest of a HGTV producer on 2014
Ben worked as a minister at a local church, while Erin pursued a career as a wedding invitation designer in Laurel. Alongside their professional commitments, the HGTV couple were also busy renovating their home. Ben and Erin's hard work and dedication paid off when they finished remodeling their craftsman house. Excited to share their journey, they decided to tell their story to Southern Weddings in 2014.
Little did the soon to be HGTV stars know that their story would capture the interest of an HGTV producer. Intrigued by their renovation project and the couple's unique journey, the producer reached out to Ben and Erin with an exciting proposition
Their show "Home Town" made its debut on 2016
On January 24, 2016, Ben and Erin's renovation show, called "Home Town," made its debut on HGTV. The couple was thrilled as they watched the first episode air, marking the beginning of their exciting television journey.
To celebrate this one in a lifetime moment, Erin took to social media and shared a photo in Instagram capturing their elation. The picture showed Erin and Ben standing side by side, proudly posing in front of a TV camera.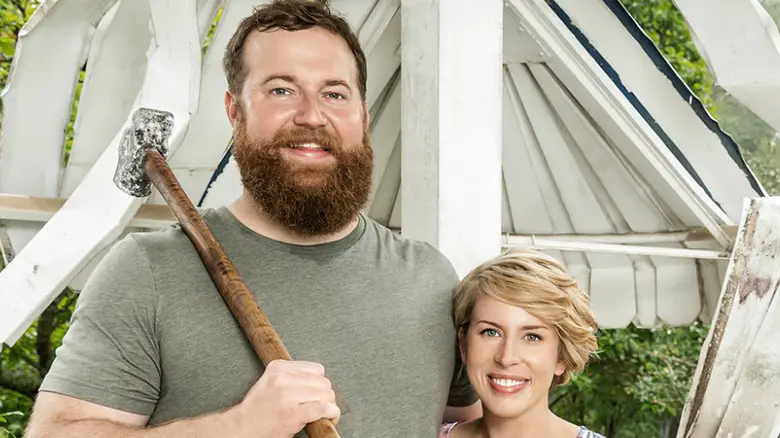 Erin looked radiant in a white coat adorned with lovely floral accents, while Ben appeared dapper in a dark suit. Erin expressed her joy in the caption, describing the day as nothing short of a dream come true.
They take over the ownership of Laurel Mercantile Co on December 2016
Taking their commitment to their community a step further, Ben and Erin decided to take over the ownership of a local shop called Laurel Mercantile Co., which had been closed for a period of time. With their expertise and passion for revitalization, they breathed new life into the establishment and prepared to reopen its doors.
Throughout the process of renovating the shop, Erin kept her followers engaged by sharing many updates and progress photos, documenting the transformation of the building.  As the grand reopening day approached, Erin couldn't contain her excitement. To mark this exciting occasion, she posted a photo of herself and Ben, surrounded by their supportive friends and family, standing proudly in front of the store.
They welcome their first Daughter on January 2018
After enduring a prolonged struggle with an mystery illness that posed a threat to Erin's ability to conceive, the HGTV couple were overjoyed to welcome their first child into the world. In January 2018, their precious daughter, Helen, made her much-anticipated arrival, bringing an abundance of love and happiness to the couple's lives.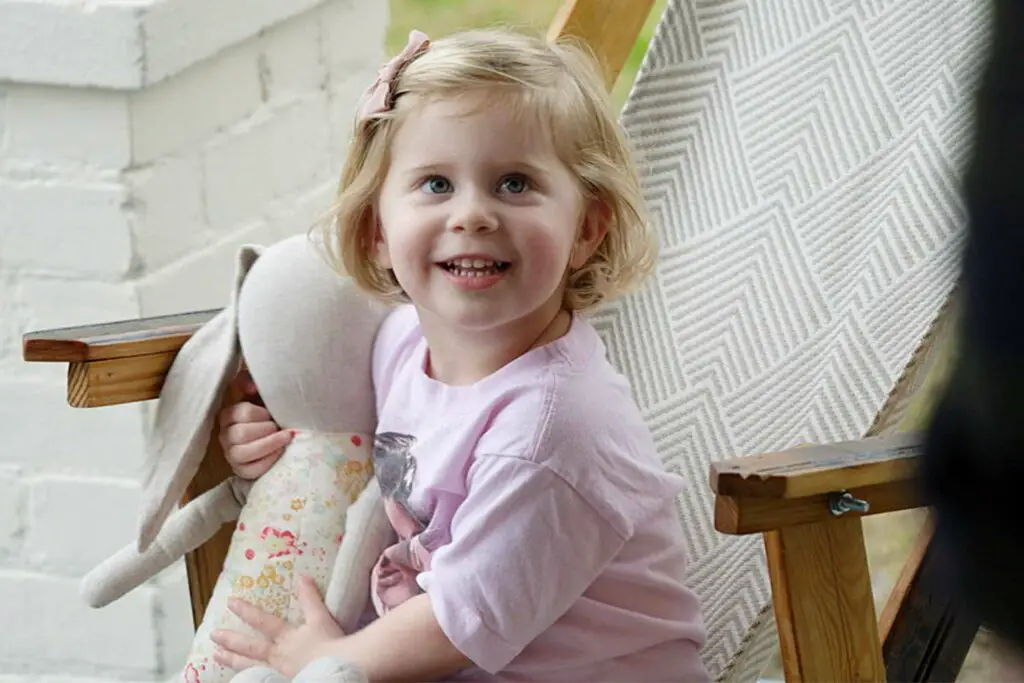 In the tender moments following Helen's birth, Erin took to Instagram to share photos of their newborn angel. The first one you can see Ben gently touching Helen's tiny hand, a gesture of love and protection. In the second one you can see Helen in Erin's arms.
They revealed Erin's health Issues on October 2018
The HGTV couple shared their journey with Erin's health issues to People, which she battled with for ten long years. Erin described those years as incredibly sad, scary, and confusing, filled with pain and uncertainty.
This began when the half of HGTV couple, Erin was just 19 years old. Initially, she experienced excruciating stomach pain and a mild fever that lasted for 24 hours, only to disappear afterwards. But as time went on, the pain became more intense and persisted for several days or even a whole week.
The couple went through a rollercoaster of emotions and medical consultations. Doctors initially suspected serious conditions like cancer, while others dismissed Erin's symptoms as imaginary.
In 2014, half of HGTV couple, Erin underwent an emergency exploratory surgery that finally unveiled the truth. Her organs were fused together, and her appendix had been perforated and healing itself repeatedly over the years.
Thankfully, the doctors were able to remove the damaged tissue and Erin's appendix. However, they delivered the heartbreaking news that her chances of conceiving children were slim.
Therefore, the news of Erin's pregnancy came as a delightful surprise, bringing immeasurable joy to the couple. The half of HGTV couple, Erin expressed her indescribable happiness at becoming a mother.
Baby Helen brought an abundance of joy to their lives, surpassing all expectations. Erin lovingly described Helen as the best baby ever, emphasizing the profound joy and fulfillment motherhood has brought her.
They welcomed their second Daughter on April 2021
Ben and Erin Napiers' family grew as they joyfully welcomed their second baby, a daughter named Mae on April 11, 2021. Mae's name holds special significance as it pays homage to Erin's beloved Aunt Mae.
The HGTV couple expressed their excitement about the new addition, not only for the love they will shower upon her but also for the bond that will develop between Mae and her older sister, Helen. The siblings are already deeply enamored with each other, promising a beautiful and close relationship in the years to come.
The couple shared their delightful news with PEOPLE, expressing their heartfelt emotions. They couldn't contain their happiness at the prospect of watching their daughters grow together and forge an unbreakable sisterly connection.
They talk about renovating their country house in December 2021
The HGTV couple, Ben and Erin, opened up to PEOPLE in December 2021, discussing their exciting project of renovating their country home. This particular endeavor was later featured on the sixth season of their television show. Erin expressed her enthusiasm for the personal project saying that they are working on a house for themselves.
She followed that by saying that it's completely different. Ben chimed in, explaining that the house would serve as a hideaway, located near their family land. It would be a place where they could escape to and allow their daughters to freely run around during the weekends.
While the couple intends to continue living in their current home, Erin highlighted the challenge they faced during the quarantine period due to limited space. She mentioned that they only had a small yard in town for their girls to play in.
However, the HGTV stars have fond memories of growing up in the countryside, where they could climb trees, spend the whole day outdoors, and return home covered in dirt. They wished to provide the same experience for their daughters, hence their eagerness to create a space where the girls can enjoy such freedom and adventure.
Their Celebration after they release their holiday movie, "Christmas Open House" on November 11 2022
Erin couldn't contain her excitement as she celebrated the highly anticipated release of her and Ben's holiday movie "Christmas Open House" on HGTV. Taking to Instagram, the half of the HGTV couple Erin, shared a series of photos from the set, urging her followers to tune in and enjoy the heartwarming tale.
In her caption, she couldn't help but reveal some intriguing plot details, raising anticipation among fans. The first image featured a charming photo of the couple striking a pose alongside a Santa statue, exuding holiday cheer.
The second photo captured a truly romantic moment between the HGTV couple as they gazed into each other's eyes, radiating warmth and love.
Erin and Ben Celebrate their 14th year anniversary on November 22 2022
Erin celebrated her 14th wedding anniversary with her husband Ben by sharing heartwarming photos on Instagram, reminiscing about their special day. One of the pictures captured their dancing together.  Another picture is the couple standing side by side during the wedding ceremony, their smiles radiating happiness.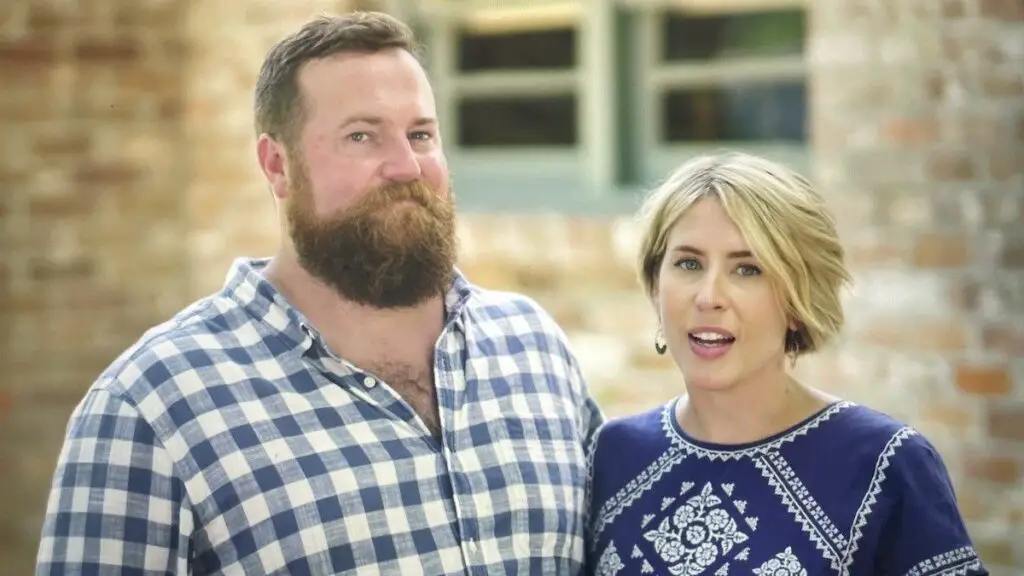 Reflecting on the past 14 years, Erin expressed her gratitude and love for Ben in the caption.  She acknowledged the significance of that day, when she took on a new last name and her parents gained another beloved son. Erin made sure to tag Ben in her post, emphasizing their enduring bond.
Ben recovers from Shoulder Surgery on March 2023
Ben underwent shoulder surgery to address a few issues. The procedure involved repairing his rotator cuff, removing a bothersome bone spur, and tidying up the cartilage.
Erin, being the loving and supportive wife, shared a glimpse of Ben's recovery journey on Instagram. She posted a photo that showcased him resting comfortably on the couch, surrounded by pillows and blankets.
In her Instagram caption, Erin playfully mentioned that Ben had the privilege of having the "best nurse in the biz" taking care of him during his recuperation. Her words hinted at her dedication and commitment to his well-being. It's clear that Erin's love and attention were essential in providing comfort and aid during this challenging time for Ben.
They celebrated the 100th episode of their show "Home Town" On April 2023
The HGTV couple, Ben and Erin,  celebrated an occasion on April 25, 2023 as they reached the 100th episode milestone of their show, "Home Town." The celebration took the form of a grand party, bringing together a multitude of familiar faces.
Erin, expressing her excitement, took to Instagram to share her thoughts on the event. She described the scene as a gathering of hundreds of people, including homeowners from all seven seasons, their dedicated crew and producers, as well as representatives from HGTV.
In her post, she compares it like the experience of a second wedding, emphasizing the joy and significance of the occasion. The half of HGTV couple, Eric then concluded the rarity of shows reaching the impressive milestone of 100 episodes, revealing that only 2.5% of all shows achieve such longevity.
In a lighthearted remark, Ben added a playful comparison, likening himself to Tom Selleck from the TV series Blue Bloods, acknowledging the significance of their achievement.