Preston Roberts from "Mountain Men" was born on July 17, 1957, and brought up in Brevard, North Carolina. He was an adventurous man who loved touring Pisgah National Forest. Find out what happened to Preston Roberts on Mountain men. Also, meet his wife Kathleen Dupont McGuire and Kids.
What Happened To Preston Roberts on Mountain Men? How did He Die?
Preston Roberts was diagnosed with cancer that developed a tumor on his liver. The tumor caused a lot of complications in his body, gradually preventing the flow of blood and oxygen. It made him waste away rapidly within three weeks after he was diagnosed.  However, the tumor was inoperable and, hence succumbed from it.
Preston Roberts died on July 24, 2017, due to liver complications caused by an inoperable tumor. He passed on in the arms of his beloved wife Kathleen and the rest of his family. This Mountain man also worked as an artist, woodsman, environmentalist, educator, and craftsman. He was famous for appearing on Mountain Men.
Mountain Men Preston Roberts Net worth & Salary.
Preston Roberts was a jack of all trades. He held many titles due to the different kinds of jobs that he did during his lifetime. Preston used to design knives, about 4-5 inches long, and sell them for $250. As an instructor in diverse cultural events and other gatherings, Preston Roberts mostly taught primitive skills across the US.
In his free time, Preston also liked rearing chickens, raising horses, and gardening. Earlier in his life, he also worked as a woodsman and environmentalist.
Preston Roberts' net worth was reportedly $900,000 at the time of his death. His salary sat anywhere between $15,000 to $20,000 per episode for his work. He appeared in a total of 64 episodes and also worked on a popular documentary.
Even after his demise, a fundraiser had to be done to support his wife and family. Fortunately, people contributed astoundingly and surpassed the expected figure to a whopping $116,000.
Career info and profession
Preston  Roberts went to Atlantic Christian College and Appalachian State University where he graduated with a degree in Art Education. As an educator, he taught for 25 years in Wilkes County School and his performance was quite impressive.
Preston was nominated twice for "Teacher of the Year" by his colleagues. He has also worked in many cultural events and other workshops as a primitive skills instructor. As an artist, he designed knives and charged people to design cutlery for them. Before his demise, Roberts worked for the History Channel on a series called the Mountain Men.
Mountain Men Preston Robert Was Married To Wife Kathleen DuPont McGuire.
Preston Roberts met the love of his life Kathleen DuPont McGuire in 1975 and married her almost immediately. He loved his dear wife a lot – to the extent that he changed the saying, "behind every good man there is a woman." Instead, he changed it to, beside every good man there is a woman."
This expresses how passionate and supportive his wife was to him. Kathleen bore three sons for Robert and they stuck together until his demise. They raised their sons together and in 2015 they celebrated their 40th wedding anniversary.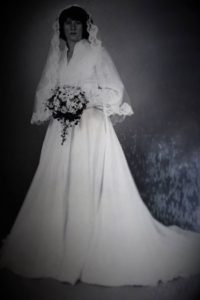 Preston Roberts and his wife were blessed with 3 sons but they have stayed out of public scrutiny hence nothing is known about them.
Short wiki-bio, age at the time of death
Preston Roberts was born on July 17, 1957, and died on Monday 24, July 2017 at the age of 60. He was born and raised in Brevard, North Carolina and he later relocated to Wilkes County. Additionally, Preston was survived by his wife Kathleen, and his three sons. During his lifetime he was a factotum even though he lived a low profile life. Robert met his friend Eustace Conway in 1982 back in school and they became lifelong good buddies up to his death.