While the popular HGTV series "Good Bones" embarks on its eighth season, which premiered on August 15, 2023, fans need not despair over bidding farewell to Mina Starsiak Hawk. This seasoned designer and renovation expert might not be bidding a final adieu to the network just yet.
For an impressive run since 2016, Mina Starsiak Hawk and her mother, Karen E. Laine, have been the dynamic duo at the forefront of the Indianapolis-based show. Together, they showcased their remarkable renovation endeavors executed through their company, the creatively named "Two Chicks and a Hammer." In a transitional move last year, when Karen Laine chose to step back from the limelight and retire in 2022, Starsiak Hawk took the reins by buying out her mother's stake in the company. Remarkably, even through this transition, the mother-daughter pair continued to grace the screen, sharing their combined expertise.
As "Good Bones" reaches its conclusion, a glimmer of hope emerges for fans. HGTV has recently disclosed that negotiations are underway with both Starsiak Hawk and Karen Laine for a potential continued presence on the network, albeit in a fresh capacity. It appears that the network recognizes the remarkable talent and charisma that the duo brings, and is eager to explore new avenues for their collaboration.
In a candid and revealing interview, Mina Starsiak Hawk provided insight into the exciting prospects that lie ahead. While the exact details remain under wraps, Starsiak Hawk shared tantalizing glimpses into the potential directions they might take. The forthcoming chapter could see them branching out beyond their familiar renovation territory, potentially delving into areas such as gardening and design, which Karen Laine has shown a growing interest in. This evolution promises a captivating fusion of their established skills with novel creative endeavors.
In summary, as "Good Bones" reaches its culmination with the eighth season's debut, Mina Starsiak Hawk's journey with HGTV is far from over. The conclusion of their flagship show marks not an end, but a transition into a realm of exciting possibilities. With negotiations underway and the duo's versatility and ingenuity in the spotlight, fans can eagerly anticipate their next steps on the network's stage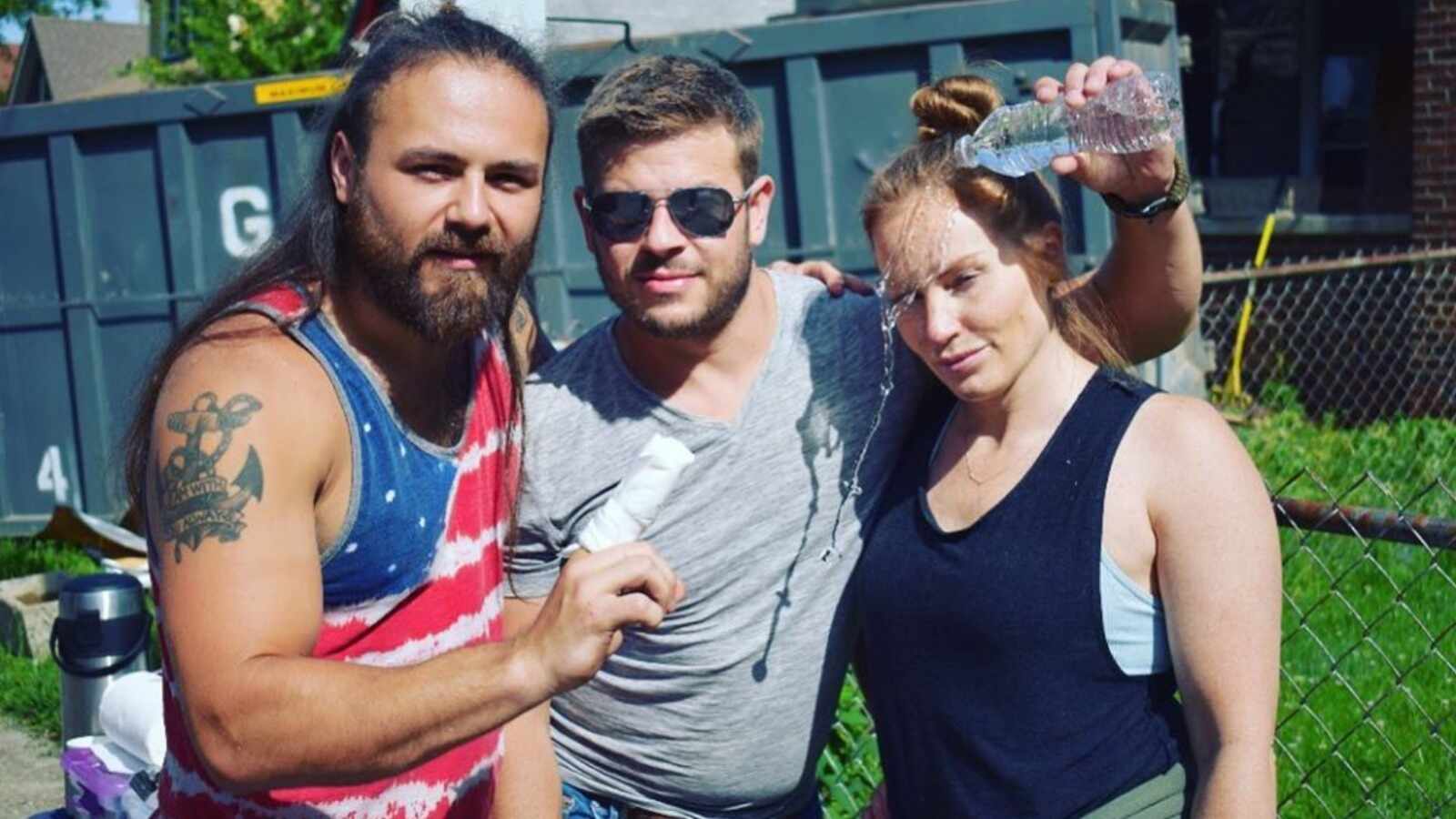 HGTV in Discussions With 'Good Bones' Stars About Their Future
As August unfolded, Mina Starsiak Hawk unveiled a personal revelation on her candid podcast, "Mina AF." She disclosed that the final scenes of "Good Bones" had been recently captured, likening the bittersweet experience of bidding adieu to the show's ensemble and production crew to the complex emotions of a divorce.
With a tinge of nostalgia, Starsiak Hawk voiced, "It's as though we're witnessing the end of an era… Today marked farewells to individuals who have been integral to my life for nearly a decade."
Interestingly, amid the announcement of the show's closure, an intriguing twist emerged. In a formal statement confirming the conclusion of "Good Bones," HGTV revealed ongoing discussions with Mina and Karen about potential new ventures, signaling that this may not be the last we see of their dynamic duo.
Venturing into a different avenue of anticipation, a recent installment of the "Paltrocast With Darren Paltrowitz" podcast provided a glimpse into Mina Starsiak Hawk's aspirations. Recorded prior to the revelation of "Good Bones" coming to an end, the podcast unveiled Starsiak Hawk's contemplation of future HGTV undertakings. Notably, she mulled over the idea of chronicling renovations taking place at her newly acquired lake house—a concept that carries a hint of familiarity yet promises a unique twist in execution.
"We're currently in a period of reflection and planning for the road ahead," she shared. "Recently, my husband and I invested in a lake house, which has sparked ideas for potential filming endeavors."
"Numerous exciting opportunities are emerging," she elaborated. "My mother is situated in North Carolina, focused on her own house. After nearly a decade of dedicated involvement in 'Good Bones,' we're all experiencing a refreshing reset. This juncture offers us the chance to explore novel avenues. Whatever direction we choose, rest assured it will be captured on camera."
Starsiak Hawk also revealed her willingness to engage with HGTV's competitive programs once more. Her history includes participating in the inaugural season of "Rock the Block," both as a contestant and a judge in the 2023 season. Additionally, she lent her expertise as a judge in the debut season of "Battle on the Beach."
Reflecting on her experiences, she disclosed, "Just yesterday, my manager and I were discussing 'Rock The Block.' I'd definitely consider judging. While the first season brought its challenges, I've gained some distance from the initial difficulties. 'Rock The Block' remains an enjoyable option; I'd readily judge it if offered. The show is incredibly engaging."
"Taking it further," she added, "My involvement in 'Battle On The Beach' was an absolute joy. I'm open to revisiting that venture."
Furthermore, a hint of excitement emerged as Starsiak Hawk alluded to potential collaboration with the longstanding HGTV series, "House Hunters." Cautiously unveiling her plans, she mentioned, "There might be some intriguing 'House Hunter' endeavors in the works. The extent of my revelations might be limited, but 'House Hunters' has a legendary status within HGTV's legacy."
In summary, Starsiak Hawk's openness to competing again in HGTV's contests and her potential collaborations, including a possible connection with "House Hunters," suggest a bright and varied future for the talented designer within the network's realm.
Why is Good Bones Ending?
After a substantial eight-season run, Starsiak Hawk shared on her "Mina AF" podcast that the conclusion of "Good Bones" felt like a natural juncture, though parting ways with the cast and crew was a poignant challenge.
In her determined effort to preserve the team's cohesion, she candidly admitted, "I tried every approach to keep the team united, driven by the simple desire to maintain our unity." Eventually, she realized the necessity of releasing the past for her own well-being, acknowledging that she had evolved into a version of herself she disliked.
Speaking with Collider, Starsiak Hawk highlighted the significant impact of her mother's retirement on their collaborative dynamic throughout the show. This transformation becomes evident in the final season. She shared, "Our roles shifted considerably. Previously, we'd review floor plans together, but that's no longer the case. Design now leans more towards my vision, with input from MJ Coyle. The tasks my mother excelled in, such as landscaping and personal projects, continue to shine. Those aspects remain her passion, while tasks like handling taxes or navigating logistical challenges have taken a backseat since her retirement."
Acknowledging the evolution they've traversed together, Starsiak Hawk delved into the complexities of their journey on her podcast. With life events like marriages and children reshaping their paths, finding common ground proved increasingly difficult. She disclosed, "As we've matured, marriage and children entered the picture. Her retirement compounded the challenge of maintaining equilibrium. The show's spotlight magnifies every nuance of our relationship, amplifying complexities."
Illustrating the contrasting aspirations, she further elaborated, "I'm forging an empire while she yearns for a more relaxed pace. Aligning our visions required time. I'd question her slower pace, and she'd respond with her desire to unwind, often summing it up as 'I'm old and I want to chill.'"
In essence, Starsiak Hawk's reflections underscore the intricacies of evolving relationships and priorities, illuminated by the dynamic shifts that "Good Bones" has undergone throughout its impressive tenure.