Tad Starsiak is a TV personality who rose to fame as an HGTV star. He has starred on HGTV in a reality show named Good Bones. The show aired in 2016 and has reached 7 seasons as of September 2022.
Furthermore, fans know him as the half-brother of Mina Starsiak who is the main cast of the show. He recently had an Emsculpt Neo surgery which has helped him to gain a better physique with increased stamina and power.
In this article, we shall discuss his double back surgery emphasizing his weight loss journey and health update as of 2022.
He Had a Double Back Surgery
The HGTV star has revealed on several occasions that he has had double back surgery. He was only 21 years old at the time of the operation. After that, he always had difficulty performing back exercises and feared lifting weights.
In an Instagram post dated 21 September 2021, Tad also talked about always being concerned about the wellness of his back and taking care of it in every way possible.
https://www.instagram.com/p/CUDv5I8gN1e/?hl=en
Tad's weight loss journey
Scanning through Tad Starsiak's Instagram wall, we can clearly see changes in his physical appearance, especially his weight. He has always been a fitness freak and works out regularly.
However, he was not able to cut off his extra weight for a long time. Then, he joined the F45 Downtown training center in Indianapolis where he met people who motivated him.
He quit making excuses and set himself on a journey to achieve his fitness goal. On 11 December 2021, Tad shared a before and after shirtless photo where the changes are clearly visible.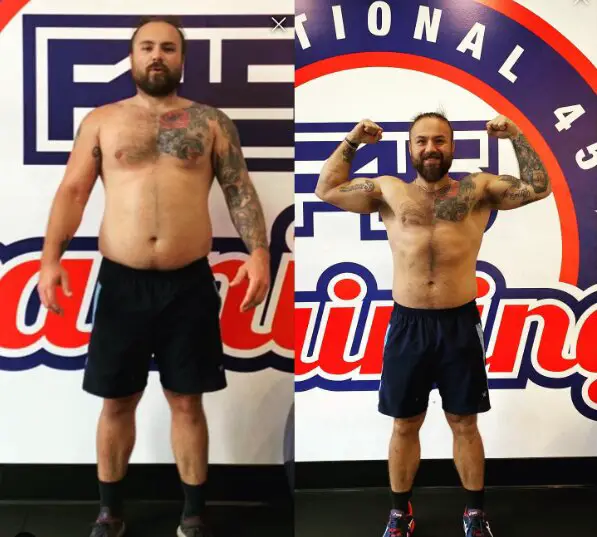 Alongside the picture, he mentioned that it took him 16 months of a continuous effort to be the person on the right side. In addition, Tad has also been through a cosmetic procedure name Emsculpt Neo surgery on October 2021.
It is a process that uses high-intensity electromagnetic pulses to create a contraction wherever it's placed and aids in strengthening the muscles and helps dissolve fat. He has been regularly posting updates regarding his weight loss journey on Instagram.
Via his Instagram, Tad regularly advocated eating right and exercising 4-6 times a week. He has amassed more than 36,000 followers who support and get inspired by his transformation and positive messages.
His 2022 health update
As of September 2022, there has not been any news regarding Tad Starsiak's illness or any form of adverse health condition. In his Instagram posts, he talks about how he maintains a healthy lifestyle.
As his post suggests, Tad regularly exercises and meditates to keep himself in good shape, both mentally and physically. In addition to that, he has talked about reading in the same post. However, no specific health updates are found on the web.