To a majority of viewers, Chip and Joanna Gaines emerge as the epitome of genuine and virtuous reality TV hosts. As the proud parents of five, they not only put their passion for property transformations and interior design on display in their show, but they also openly share their devotion to family and the concept of home. While occasional whispers of discord between the Gaineses and their producers did circulate, the prevailing sentiment remains one of endearment toward this couple.
Hence, when the couple made an appearance on The Tonight Show Starring Jimmy Fallon, and a visibly nervous Chip Gaines inadvertently let slip some information he was bound not to disclose, a sense of unease swept over him. Though the situation ultimately resolved itself without incident, Chip Gaines couldn't shake the feeling that he might face legal consequences after departing from his interview with Jimmy Fallon back in 2018.
Chip And Joanna Gaines Were Return Guests On Jimmy Fallon
Chip and Joanna Gaines have been welcomed onto The Tonight Show Starring Jimmy Fallon on multiple occasions throughout the passing years. A particularly memorable instance was their appearance in an episode dedicated to unveiling their then-new venture, the Magnolia Network.
In a candid interview that unfolded in 2023, Chip and Joanna found themselves gracing the show's stage on a Valentine's Day episode, engaging in a lively discussion that encompassed their initial encounter, the release of Joanna's memoir towards the close of 2022, and the enduring influence of their television journey.
Within this engaging conversation, the couple recounted the charming tale of their meeting—set against the backdrop of Joanna's father's tire business—and shared a delightful anecdote involving Taylor Swift, speculating that the renowned singer might have bestowed a heartwarming gesture upon them. In addition, they delved into the insights of Joanna's memoir, adding yet another layer of intrigue to their dynamic dialogue.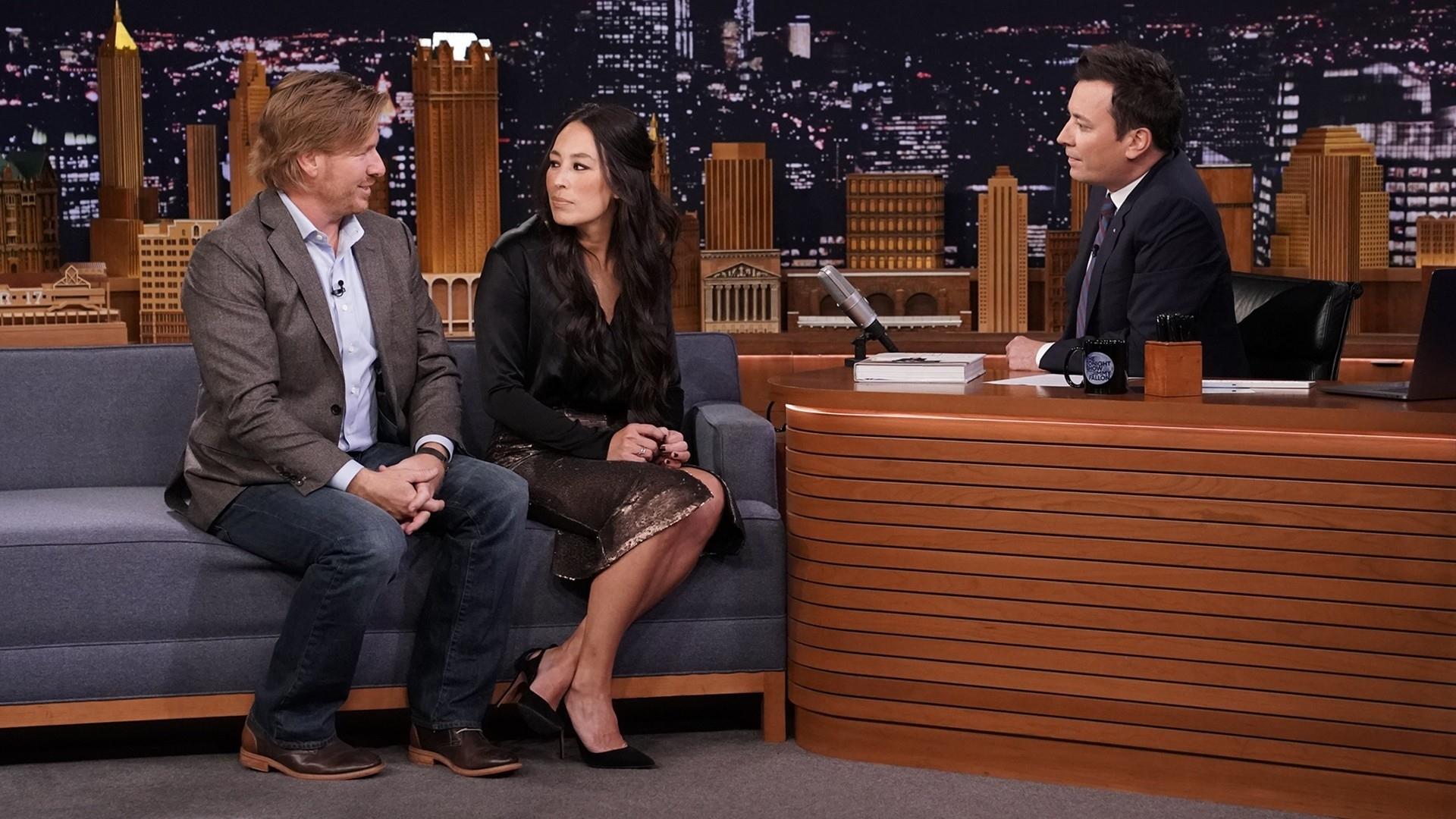 During their conversation, the couple recounted a moment of awe they experienced while attending an awards ceremony, where luminaries including Taylor Swift and Jimmy Fallon himself were also present. In response, Jimmy playfully reassured them that they were as renowned as the other notable figures they had mingled with.
Yet, true to their authentic Gaines demeanor, the couple couldn't resist sharing an anecdote that underscored their down-to-earth nature, setting them apart from the glitz of celebrity life.
As the dialogue progressed, a reminiscence about one of their past appearances on The Tonight Show Starring Jimmy Fallon surfaced. Chip confessed to a significant blunder he had made during that interview—an inadvertent revelation of information that was meant to remain confidential.
Despite Chip and Joanna Gaines' prominent association with the Magnolia Network and its roots in their cherished Magnolia businesses, it's essential to recognize that they share ownership of the company with others. While their diligence contributed significantly to its development, certain aspects of the launch were circumscribed by limitations.
Even though their enthusiasm to unveil their nascent network was undeniable, Chip Gaines inadvertently found himself in a delicate situation when he discussed the Magnolia Network's launch before it had fully materialized, potentially infringing upon contractual obligations.
Their previous appearances on The Tonight Show Starring Jimmy Fallon date back to 2018 and 2019, the former being the episode in which Chip encountered a public relations mishap.
Their inaugural appearance on the show was marked by a blend of awkwardness and humor. Chip commenced their time on set by playfully absconding with one of Jimmy's Sharpies, jesting for more souvenirs, and even discreetly stashing items into his coat pockets—such as a stuffed panda playfully handed to him by Jimmy. In the early stages of the interview, Jimmy amusingly quipped that Chip and Joanna were "already invited back," but he was later compelled to guide Chip back to his seat, reining in his exuberance.
During the course of the interview, the Gaineses discussed their decision to step away from their show Fixer Upper, focusing on their growing family (which now included their fifth child, then an infant), and humorously attributed their hiatus to the arrival of this fifth child. Inquisitive about their television prospects, Jimmy pointedly inquired whether they had plans to return to the small screen. In a moment of jestful tension, the camera directed its focus squarely on Chip, who—perhaps inadvertently—revealed confidential information that he wasn't supposed to.
Facing the camera directly, Chip confessed, "We signed a nondisclosure agreement… And it said 'You can tell your mother but that's it.'" With a lighthearted nod to 'his mom,' Chip proceeded to announce to everyone that they were making a comeback to TV and eagerly anticipated their return.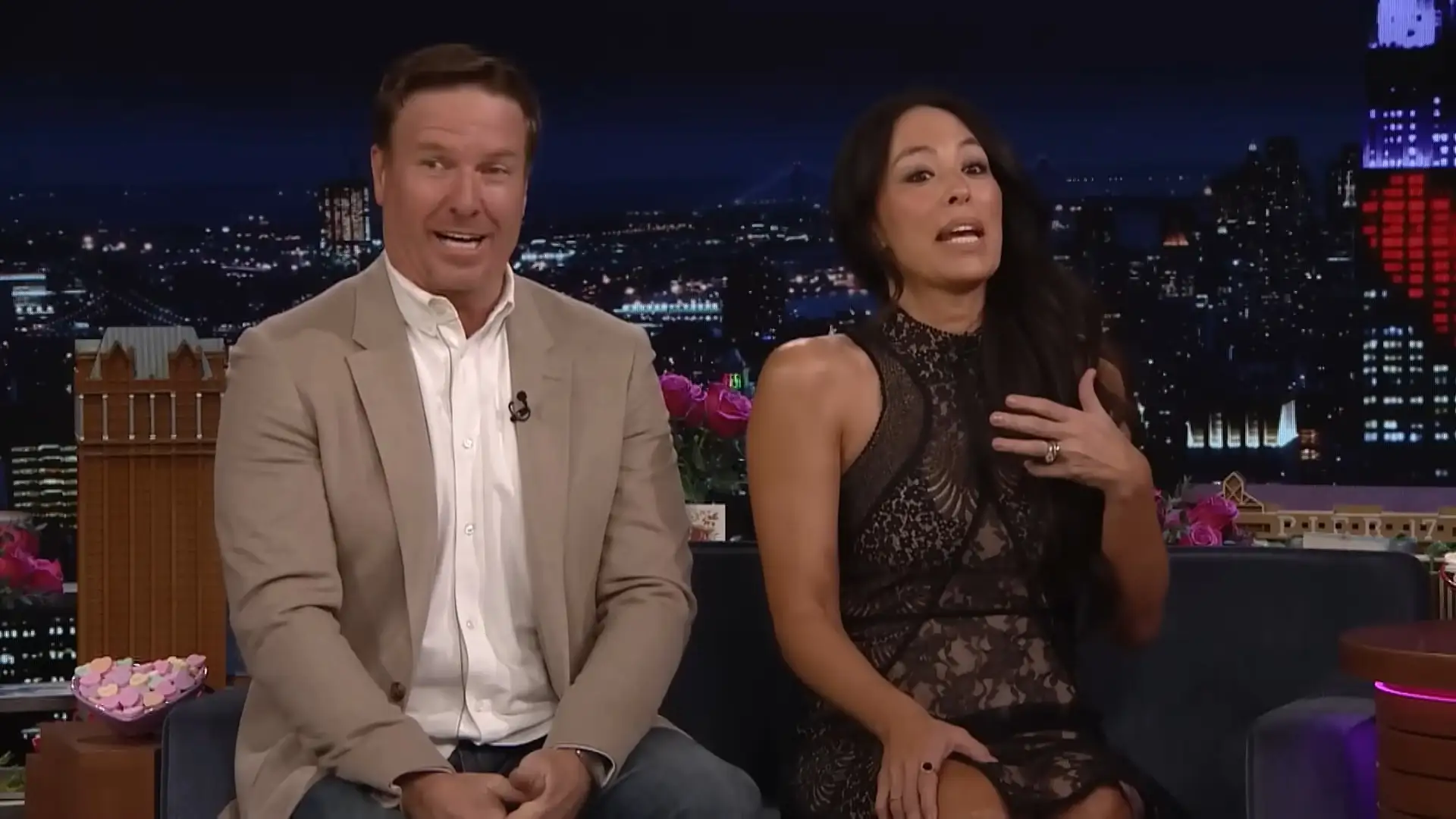 The ensuing jubilation in the studio was palpable as Chip and Joanna emphasized, "This will be big," and proceeded to share additional insights. Chip alluded to their collaboration with David Zaslav and Discovery, underlining their partnership, and then unveiled the significant revelation that they were embarking on a network of their own.
Jimmy congratulated the couple, and the interview culminated with a plug for another of Joanna Gaines' books, "Homebody."
Chip Revealed He Brached A Contractual Agreement During An Interview
During their interview in 2023, Chip Gaines openly acknowledged a significant blunder he had committed by unveiling the impending Magnolia Network while on Jimmy Fallon's show.
The situation was compounded by the fact that the network's planned launch in 2020 was delayed, rendering the announcement somewhat premature. Moreover, Chip found himself in a quandary of contractual violation due to his impromptu disclosure.
The 2023 interview unfolded with a bit less tension compared to their previous encounter (Chip remained largely seated this time). Nevertheless, Chip candidly confessed to experiencing trepidation over divulging their momentous news on national television.
When Jimmy broached the subject, Chip began, "We were so scared…" with Jimmy playfully insinuating his understanding that the news of Magnolia wasn't supposed to be shared at that time. Joanna chimed in, revealing that Chip had been explicitly cautioned against discussing it just before stepping onto the stage, advice that he ultimately disregarded.
Chip lightened the mood by jesting about his fear of being led offstage in handcuffs, unsure if the legal consequences he imagined were a "real thing." As it turned out, any potential ramifications didn't materialize, as evidenced by the subsequent trajectory of Magnolia Network. The unplanned revelation didn't hinder the Gaineses from making a return appearance on Jimmy Fallon's show, nor did it adversely impact their ongoing collaboration with Discovery and the successful operation of the Magnolia Network.