The Nat Geo Wild channel is home to many animal programs. You may have heard that some animals can detect a change in season or climatic conditions. For cast member Charles Pol in the show The Incredible Dr. Pol, many people had already pictured him marrying his girlfriend, Beth Oakes. It's been a long time, and finally, the wait has come to an end, the church bells are a step away from ringing. Find out more about Charles Pol's girlfriend in 2018.
Charles Pol 's New Girlfriend in 2018 is Beth Oakes. They are already Engaged.
Finding your soulmate in the world can take a long time. Opening up to someone and getting to know them could require a lot of team building. On the other hand, it's not uncommon for people to fall in with their best friends or close friends. In fact, most cheating cases are as a result of this.
Charles Pol and girlfriend Beth's love story is unlike no other. They didn't just fall in love; they grew in it! The duo practically lived together since they spent a lot of time together while growing up. Their parents were all close friends hence their families were already close enough.
It was even obvious to his dad as he commented, 'That is Charles' girlfriend from when he was three years old…' His mother, Diane also added that she too had her own suspicions 'The thought did occur to me that maybe someday they would end up together, they just clicked.'
It may have taken Charles a while to ask her out, but it finally paid off in the end when he proposed to her recently. The Nat Geo star usually likes to keep his life secret which means, the exact proposal date is unknown. Although, he tweeted about it early January this year Hopefully we'll find out more from the bride to be.
Charles Pol posted an image of an engagement ring on Beth's finger.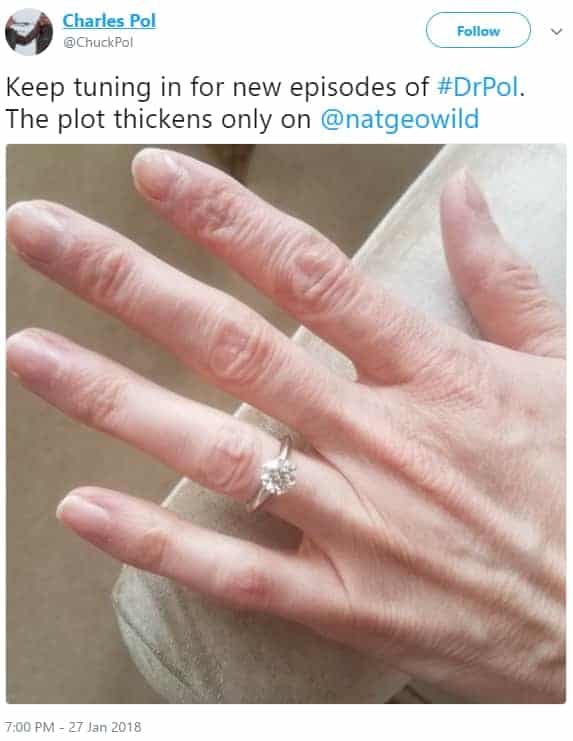 Neither Charles Pol nor his parents have revealed anything about the duo's marriage, but we expect Charles Pol and Beth to get married soon. Let's wait and watch.
What about his ex-girlfriend Kelly?
The road to finding true love is always full of bandits who rob your heart and time. The star's love life isn't any different. We all have kissed a few frogs here and there before finding 'the one.'
Back in 2012, his sister Kathy shared a happy picture of her brother in the warm embrace of his then-girlfriend Kelly. The duo seemed happy together and had attended a Halloween party together. In as much as he had not come out officially to share the news, everyone with eyes could tell they were dating.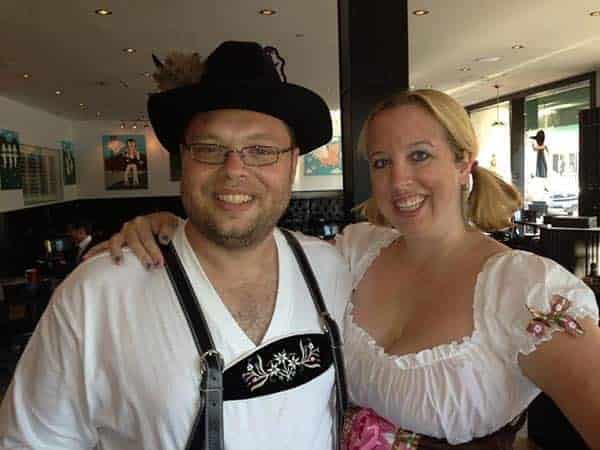 No one knows exactly what happened between Charles and ex-girlfriend Kelly and the cause of their breakup since he keeps to himself. As such, there had been rumors circulating the internet about his sexuality. Fans were wondering whether he was truly gay or not. It looks like the rumors were finally laid to rest with his new girlfriend.
Short Bio, Age, Net worth
Charles is the adopted son of Dr. Jan and Diana Pol.  He was born on March 6th, 1979 making him 39 years old. Working closely with his father on the show as its co-executive producer has earned him fame and fortune.
Charles Pol has accumulated a net worth of $1 million. This comes after he chose not to pursue veterinary medicine like his father and instead focused on a career in entertainment. The millionaire enrolled to the University of Miami and got several jobs in production.
Summary
However much recent Charles Pol engagement to his girlfriend Beth Oaks is, we can't wait to find out the actual wedding date. Hopefully, if he is generous enough, we will find out what happened to his former girlfriend, Kelly.