Kilcher family became famous through the American TV series on Discovery Channel, "Alaska: The Last Frontier". The show gains a lot of popularity and a lot of people can wait to see each episode about the adventurous life of the Kilcher's. Know every member of the Kilcher family tree.
Living away from modern life, at their homestead, outside of Homer Alaska they choose to live a life that many of us wouldn't find it possible, without heating in long and harsh winters of Alaska and subsisting by hunting and harvesting.
Kilcher family tree
The history of Kilcher family in Alaska started with Yule Kilcher born in 1913 in Switzerland. He and his wife Ruth have8 children and two of them are ATZ and Otto Kilcher They are the only sons of Yule and Ruth, and they grew up along with six sisters: Wurtilla, Fay, Catkin, Stellavera, Mossy, and Sunrise.
Atz and his wife Bonnie have four children: Shane, Jewel, Lee, and Nikos.
Otto is living along with his wife Charlotte and they have four children: Levi, Eivin(sons of Otto with his first wife) August and Torrey (son of Charlotte Kilcher from her previous marriage)
Yule and Ruth Kilcher
Back in 1936, during the World War 2, Yule Kilcher left Switzerland to search another place to live for him and his family, far from the tensions from Europe. He came to America and here's where he found out that in Alaska could obtain 600 acres for free.
He immediately announced his family but the only one who choose to follow him was his friend Ruth, that later became his wife. They are the senior in Kilcher Family tree.
Together they had eight children: 2 sons ATZ and Otto and six daughters Wurtilla, Fay, Catkin, Stellavera, Mossy, and Sunrise. They raised their children in the homestead and until their early teens they ware homeschooling and then attend the public school courses through correspondence because elementary school was too far.
Atz Kilcher and wife Bonnie Dupree, ex-Lenedra Carroll
Atz Kilcher was born on September 2, 1947, in Homer Alaska, after his parents moved here from Switzerland. He is the oldest son of eight children(oldest Child of Yule in Kilcher family tree) and he lives in homestead for his entire life.
Now he is married to Bonnie Dupree.  She was born on February 5, 1954, in New York.  She left New York along with her first husband and they moved in a Tepee.
There is no information about her first marriage and how it ended up, but Bonnie and her first husband have two children together. After she moved to homestead Alaska she met Atz and since then they have a happy marriage together.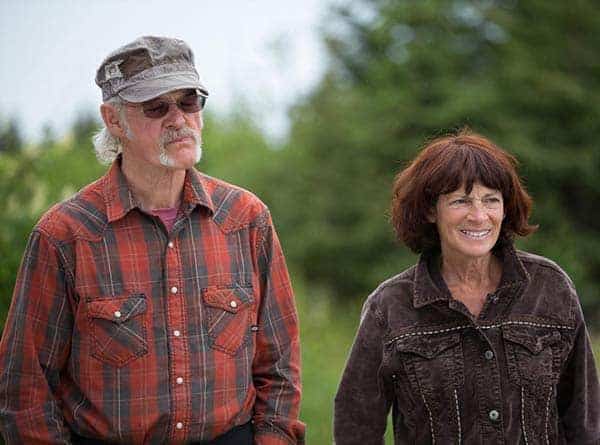 Caption: Atz Kilcher married his second wife Bonnie Dupree
Before Bonnie, Atz also was married to Lenedra Carroll. Together they have three children Shane Kilcher, Jewel Kilcher and Atz Lee Kilcher. For a long time, the 4th children, Nikos, was believed to be the son of Atz and Bonnie, but apparently, his mother is another woman named Linda.
So beautiful😍🐦🌿🐦🌿💛💚 pic.twitter.com/LDJru819Wb

— Marisol ❤ (@marizulca) October 7, 2017
Before being the main cast in Alaska the Last Frontier, Atz was known as the father of popular singer Jewel Kilcher.
Atz Lee Kilcher and wife Jane Kilcher
Atz Lee Kilcher, son of Atz Kilcher and Lenedra Carroll, is known as the last frontier star. During the Alaska- the Last Frontier Show, he details the daily's activities of his family.
He is married to Jane Kilcher since 2005. They met in 2000's as Jane is from Homer Alaska, near to the Kilcher's homestead. Her experience as a Business fisherwomen brought a plus to the Kilcher's way of living, contributing with her special knowledge of the ocean to the family subsistence.
Together they have two children, the 15 years old son Etienne and the daughter Piper, but they rarely appear in the show as their parents keep them life private as they consider they are too young to face some of the negative comments that can be made about them.
Shane Kilcher and wife Kelli Kilcher
Shane Kilcher is the Atz's oldest son and was born on May 5, 1971. He is also known being the reality show star in "Alaska the Last Frontier, and he gains a lot of followers with his personality and sense of humor.
Source:-Pinterest
Along with him, stars Keli Kilcher, his wife. Keli was born and grew up in Alaska, Anchorage and she met Shane when they were in high school.
Since then they are inseparable and since June, 1992they are happily married. Shane attended Steller Secondary School and now he works for people with disability. Keli works at South Peninsula Hospital in Homer after graduated Maric College California.
They have 4 children: Keenan Tarik Kilcher, Jareth Kilcher, Reid Kilcher and Jenna Kilcher
Jewel Kilcher
Jewel became famous, before her family member, as a singer and songwriter. Her father Atz Kilcher trained her to sing and she practices a lot to sing and learn her father's songs.
When she was 15 years old she applied for a scholarship to an art school in Michigan and she was accepted. Her first solo was in Homer and was a real success.
After she moved to Michigan, to attend the school, she started to write songs, learning to play guitar and performing live in coffeehouses.
Source:-Wikipedia
Her career began in 1993, and until now she released great albums like Pieces of you, Spirit, This way, Goodbye Alice in Wonderland, Perfectly Clear, Lullaby an the latest Picking Up The Pieces.
Jewel is also an actress and made her debut in 1999 playing Sue Lee Shelley in Ride with the Devil. She also writes poetry and published her first book in 1998 named A Night without Armor.
Nikos Kilcher
Nikos Kilcher is another member of Kilcher's clan. He is now 32 years old, and all believed that he is the son of Atz Kilcher and his wife, Bonnie. But apparently, Atz Kilcher beside his known two women with whom he got married, Bonnie Dupree and ex-Lenedra Carroll, had a relationship with a woman named Linda and seemed that she is Nikos's mother.
Nikos is not a frequent appearance in the TV reality show about his family but is very active on Social Media. He posts a lot of pictures of him with her wife. Because…Yes!He is married. His wife is Kate Kilcher and they met back in 2008. After 6 years being in a relationship, they got married in September 2014.
Nikos, as his sister Jewel and his entire family, embraced the passion for music. He has a YouTube Channel where he posts videos of him singing, a cover song or his own. He is at the beginning of his career as a singer, but he has all chances to follow his sister's success.
Otto Kilcher and Wife Charlotte Kilcher, ex-wife Sharon McKemie
Otto Kilcher is the second son of Yule Kilcher. He is now married to Charlotte Kilcher. Both are stars in the TV series Alaska the Last Frontier.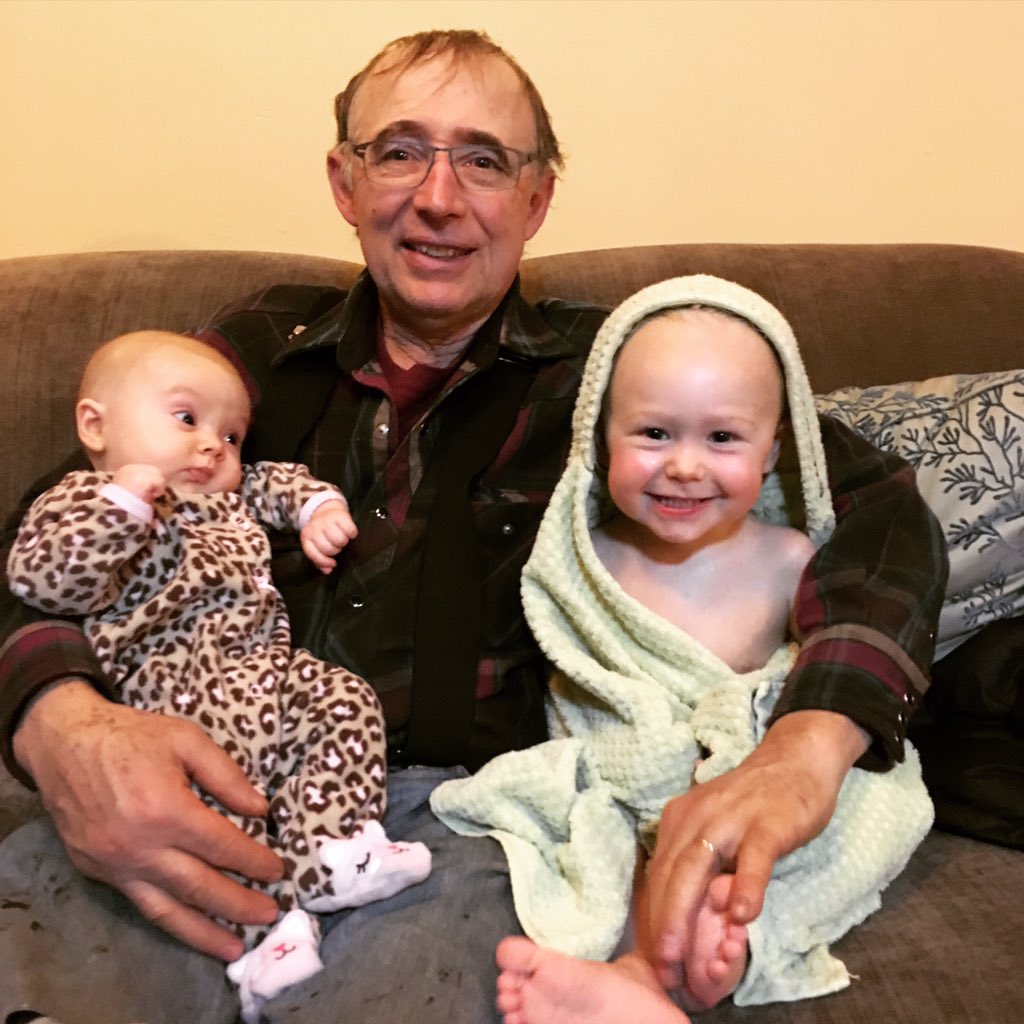 They met in South Central Alaska helping with the environmental disaster caused by the Exxon Valdez oil spill. Charlotte was married when she came to Alaska to work as a biologist, but her previous marriage end up and she got married to Otto. Otto and Charlotte have together one son August.  From her previous marriage, she has one son named Torrey.
Otto also was married before Charlotte twice. With his ex-wife, Sharon McKemie has two sons Eivin and Levi. According to Eivin's wife, Eve, Sharon still lives close to the homestead and is very close to her son family.
Grandpa giving Findlay pointers on steering a boat. On the bay with sons on the old & revamped beloved Nanuk pic.twitter.com/XF7lQeLouG

— Otto Kilcher (@OttoKilcher) October 17, 2015
Eivin Kilcher and wife Eve Kilcher
Eivin Kilcher is the oldest son of Otto Kilcher. He is married to Eve Kilcher known as being a hard worker. She never revealed any information about her family or age. She spends ninety percent of her life in the garden looking after her vegetables.
The family appreciates her for being capable to grow huge amounts of herbs and vegetable in a short period of time. So she is an important member as she assures the supply of food for an entire winter. She was raised not far from the Kilcher homestead and wasn't hard for her and Eivin to meet and build a great family together.
Eve and Eivin have two children, a son, and a daughter. Their first child is Findlay, a cute four years old boy who at almost two years old, on September 28, 2015, welcomed his little sister Sparrow Rose. The 4 of them live happily together in the homestead.
Levin Kilcher
Levi Kilcher is the only full brother of Eivin Kilcher. He is an Explorer and Scientist. He is now living in Boulder, Colorado and is working at NREL (National Renewable Energy laboratory) leading the water power team's resource. He is an expert in ocean turbulence, tidal processes, and surface waves.
There is no information if he is married or not or other information about his personal life.
August Kilcher
August Kilcher is the son of Otto and Charlotte Kilcher another member in Kilcher Family Tree. He is the only child the two had together. He studies at Oregon State University, and he is living in Oregon now, but he visits the homestead very often. He appeared in several episodes of the Alaska the Last Frontier show.
There is no precise information about him being or not in a relationship, but he and her high school friend Megan are pictured pretty often together, and they seem to be close enough to suppose they might have a more than just a friends relationship.
Torrey Kilcher
Torrey Kilcher is Charlotte Kilcher's son from her previous marriage. There are no details about his biological father, but despite being his stepfather, Otto has a great relationship with Torrey.
We don't know much about Torrey but, according to his mother post on his Instagram Account @charlottekilcher, he was married in December 2015 with a beautiful woman named Dana