Any movie that has the actor, Mark Wahlberg as part of its cast is considered a high-budget film since he doesn't come cheap. He got ranked as one of Forbes's Highest paid actors, slightly higher than Dwayne 'The Rock' Johnson last in 2018. If you want to know by how much, then you are in the right place as we will address that. Also be sure to stick around to find out his net worth, salary, age, wife, body measurements and so much more.
Mark Wahlberg's Net worth Is $350 Million.
According to a reliable source, Mark Wahlberg's net worth standings as of 2022 are approximately $350 million. His salary usually ranges from one gig to the other. However, as of 2017, Forbes released his salary at $68 Million which was closely followed by The Rock at $65 million.
Most of Wahlberg's hard-earned cash comes from his acting career which dates as far back as 1993. However, his active years in the entertainment industry go much further back to 1984. So what was he doing then? Well, if you are as old as I am then you probably remember him as Marky Mark and also one of the original members of The New Kids on the Block.
Part of Mark Wahlberg's net worth is also a total of his rapping and modeling career. Yes, you heard it right. He used to be an underwear model for Calvin Klein and other known brands. Nowadays, he works as a film producer while handling his restaurant business when he is not busy getting buffed up for a movie role.
Mark Wahlberg is Married To his Wife Rhea Durham.
Enough about Mark Whalberg's Net Worth, let's talk about his wife and married life.
The film producer is currently a happily married man and father of four. The woman who stole his heart is none other than the famous model Rhea Durham. She has graced readers on issues of Vogue, American, British Elle magazines and so much more.
The couple met sometime back in 2001 when he was promoting one of his films in New York. She recollects one of their first dates at St. Patrick's Cathedral in the same city. It took them eight years of dating before finally tying the knot in 2009 at Good Shepherd Catholic Church in Beverly Hills.
The time gap should not alarm you as they were practically living together. Even before the couple's union, they already had three kids. Ella was born on September 2nd, 2003 followed by Michael on March 21st,2006, and finally, Brendan was born on September 16th, 2008.
Their only child born in wedlock is their daughter, Grace on January 11th, 2010. There have been no marriage conflicts in their happy family. However, it is no secret that Rhea doesn't get along with her brother-in-law's wife, Jenny McCarthy.
Age: how old is Mark Wahlberg?
Time sure flies when you are transitioning from Marky Mark into one of the highest-paid actors. According to his Wikipedia page, the TV star is currently of age 47. He was born on June 5th, 1971 making his star sign as that Gemini.
Mark Wahlberg Height. How Tall Is Mark Wahlberg?
Usually, when Hollywood contacts him for a movie role, he engages in a new workout regime. As such he weighs roughly 172 pounds while standing at the height of 5 feet 10 inches. With the tones of bench presses and dumbells that he lifts, his chest and biceps measure 46 inches and 16 inches. Talk about body goals!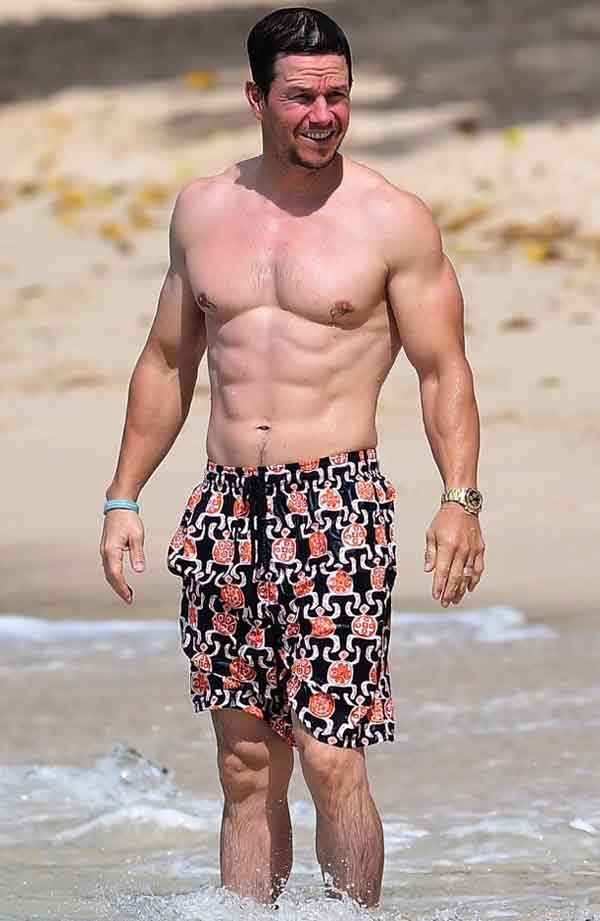 Wiki-bio, family, career info.
| | |
| --- | --- |
| Name | Mark Wahlberg |
| Age | 50 |
| Date of Birth | June 5th, 1971 |
| Place of Birth | Boston Massachusetts |
| Profession | Rapper, songwriter, actor, producer |
| Net worth | $350 million |
| Wife | Rhea Durham |
| Kids | 4 |
| Body type | Athletic |
| Height | 5 feet 10 inches |
| Weight | 172 pounds |
| Star Sign | Gemini |
Mark's childhood was quite troubled considering he came from a broken family. His parents divorced in 1982 which scarred him being the youngest of kids. As a result, he had a run with one of Pablo Escobar's famous narcotics – Cocaine – at age 13.
Racially foul-mouthed against black kids and Asians, Wahlberg got sentenced to prison for assaulting a Vietnamese man on the street. However, he has done quite a bit of growing up and atoned for his past crimes and sins.
His first appearance in the limelight was on the quest of following his big brother, Donnie on the road to music stardom. However, their band soon broke up, forcing him to pursue a solo career.
This led to many singles and collaborations which spiraled into advertising and finally into films. Mark had his first TV role was in the series, The Substitute in 1993 which has grown into blockbuster movies. He has done quite a lot of charities, engaged in production and even co-owns a restaurant in his family's name.
Summary.
Mark Wahlberg, the actor we know now is an entirely different man. We can't say if it's money that changed him since his net worth has always been huge. Perhaps it's his loving wife and kids.