Derek Deso is well known to the world as a YouTube personality. The YouTube celebrity engages in occasional challenges, pranks, and video sketches. He uploads these videos to his channel for his huge fan following to watch. Get to know Derek Deso's girlfriend, Net worth and wiki-bio.
Who is Derek Deso? His career details
Derek Deso is a YouTube sensation who started his professional career in August 2010. Together with his three friends, Lil Moco, Nesborg, and Qbanguy, he launched his first YouTube channel titled TheBoogShow. Their first video was called 'The Boog Show Intro,' which earned them more than 20 million views.
Other than the collaborative channel, TheBoogShow, Deso also runs his two personal channels, DerekDeso launched in 2011 and DerekDesoDaily launched in 2012. All the three channels upload the same type of content for the viewers to watch and enjoy.
Is Derek Deso dating a girlfriend?
The YouTube celebrity met his ex-girlfriend, Lycette Cornejo when she had a boyfriend. They became friends for a year before Lycette moved to California. Whilst there, she suggested they have lunch and go to the beach together. It is then that Deso proposed Lycette to be his girlfriend.
The pair moved to California the next day and started living together in Deso's apartment. For years, they collaborated on their YouTube videos on their respective channels, and millions of fans took to their liking. However, in May 2017, the couple announced on their YouTube channels that they were no longer together. At first, their fans speculated this to be a prank. This is because they had done break up pranks a couple of times before. Unfortunately, this was a real break up.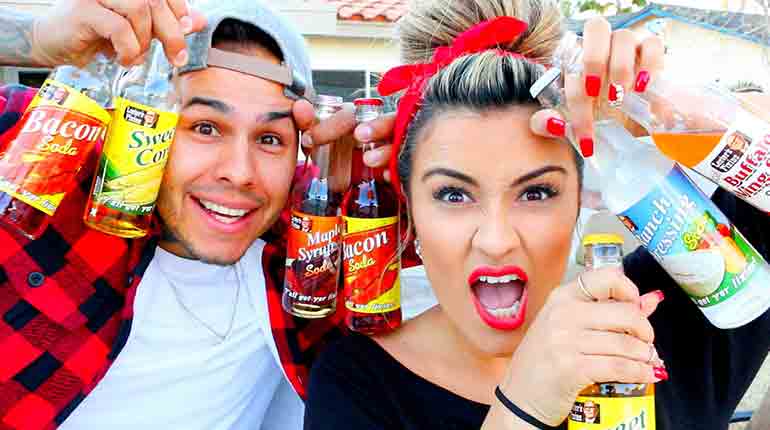 While their huge fan following took to the various social media platforms to comment about their break up, Derek Deso confirmed their split. He stated, 'It was a mutual agreement, and it has nothing to do with YouTube- not the YouTube pranks, or the challenges of daily video logging, or editing, or anything like that. 'Currently (2018), Deso doesn't have a girlfriend, and no information is available regarding his intention to start dating again.
Derek Deso Net Worth
The YouTube personality has managed to accumulate a net worth estimated at $700,000. A significant portion of his net worth is attributed to his main source of income, YouTube. His YouTube channel mainly revolves around pranks, challenges, video logs, video sketches and other random stuff.
Currently (2018) his channel has gathered over 1.7 million subscribers and over 450 million views so far. Deso is able to get a daily average of 350,000 views from different sources. This generates him revenue estimated at $630 per day ($230,000 annually) from the ads that run on his uploaded videos.
In addition, his other two channels DerekDeso Daily and The Boog Show also contribute to his net worth. Both channels have accumulated a total of 800,000 subscribers as of 2018. Given that he can get a daily average of 300,000 views from different sources, he should generate an estimated revenue of around $540 daily ($200,000 annually) from the ads that run on his uploaded videos.
wiki bio
Derek Deso was born on 27th, April 1987 in Paramount, California, United States of America. He currently resides in Los Angeles, California, United States of America. Deso has two brothers namely; Ryan, the eldest of the three brothers and Steven, the youngest of the three brothers.
Furthermore, the internet celebrity loves traveling and cooking. In an interview, Derek stated that his favorite food is fried chicken and his favorite television show is Family Guy, which serves as his late-night therapy.