Vicki Butler-Henderson is a British citizen born into a racing family. Her father, Frazer Nash, was in the British Karting team, while her grandfather raced at Brooklands with his son Frazer Nash and her brother Charlie, a racing driver.
There is a lot to know about Vicki, and this review has all the information you need about the star, including her net worth, husband, kids, and career. Stay tuned.
Vicki Butler-Henderson is Married to her husband, Phil Churchward. They have a daughter named Una and a son Oscar.
Vicki Butler-Henderson is married to Philip Churchward, a TV producer, and director. Her husband has worked for a couple of motoring programs, including Top Gear, Fifth Gear, and The Grand Tour.
Vicki Butler-Henderson married Phil Churchward in 2007 after dating for about two and a half years. She lives in London with her husband Phil and two children. Her firstborn is a daughter named Una and the second child is a son named Oscar. When asked how she came up with the name, she said,
Una was after my granny, Una Butler-Henderson, an amazing woman. And Oscar because Phil and I both liked it!
When asked if she would have another baby, she said she always wanted to have four kids, but now two is enough, now that door is shut.
In an interview, she said Phil is a better cook than she is. Also, he is a more family man. She said,
My husband Phil Churchward is better at Cooking than me… he's also taken over teaching Una to swim and he's very good at that. I don't want to concede anything else though!
Career
As aforementioned, Vicki comes from a racing family, which has been a part of her since she was very young. She began racing karts at the tender age of 12. She featured in a race with David Coulthard. After competing with Britain for a couple of years, she became a racing instructor at 17, working for Silverstone and Brands Hatch. She also worked and lived in Knockhill, Scotland.
She has been featured in severe competitions such as The 2000 Pentel Ginetta Championship and Formula First, among many others such as the Speyside Stages Rally, the Porsche Cup, and Radicals.
Vicki Butler-Henderson has also worked as a navigator for ITV's Formula One in the Rally Sunseeker. She raced a Honda Formula Four Stroke speedboat in 2001.
She won the Maserati Trofeo alongside his co-driver, Matthew Marsh, a journalist. She became the first woman ever to win the competition. She says the event was one of the best in her life.
She first appeared on TV in 1994 at the BBC2's Top Gear, racing a Ford Fiesta. Also, she was a present for the program from 1997 to 2001, where she also presented UK Horizon's Top Gear GTI. She later shifted to the new Fifth Gear show. She hosted alongside Tom Ford, Jason Plato, and Tiff Needell. She also presented the British Touring Car Championship for ITV.
Apart from being a presenter, she is also an acclaimed journalist. She has worked for companies such as the Auto Express magazine, Carweek magazine, Car Mechanics magazine, and What Car. She also worked for The Daily Telegraph and The Times. Vicki was also a key player in the launch of Max Power magazine and a guest writer for Top Gear Magazine.
Vicki Butler-Henderson Net worth
Vicki has done a lot in her career, a move that has made her famous and wealthy. As of now, Vicki Butler-Henderson's net worth stands at $10 million. The primary source of income for her is racing and different sponsorship she has done with several car companies and other digital media.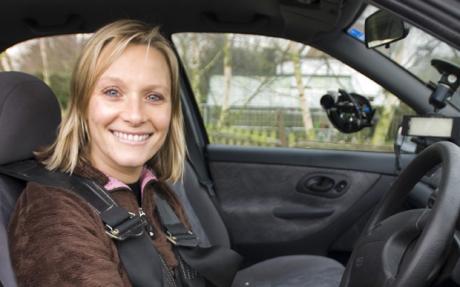 She owns a Honda s2000, an Mk II Golf GTI, and a Ducati Monster.
Wiki type biography
This professional car racer and TV host was born on February 16th, 1972, so Vicki Butler-Henderson is 50 years old as of 2022. Her zodiac sign is Aquarius, and she has a height of 1.65M. She is an avid member of the following lists: Top Gear people, British motoring journalists, and Top Gear presenters.
| | |
| --- | --- |
| Name | Vicki Butler-Henderson |
| Ethnicity | British |
| Nationality | United Kingdom |
| Age | 50 |
| Husband | Philip Churchward |
| Kids | Two |
| Profession | Racing driver, presenter, Journalist |
| Net worth | 10 million dollars |
Her older sister Lottie is the only one who doesn't race. The professional female racer grew up on the family farm and went to the Perse School for Girls in Cambridge.
She developed an interest in racing at a tender age, and by 12, she had started running. She has a car race license and a powerboat racing license as well. Initially, she had worked as a racing instructor for the silver store.