Elaine Trebek Kares, ex-wife of game show host Alex Trebek formerly known as Elaine Callei is an American based businesswoman. Additionally, she has also earned her recognition via her professional background as a Playboy Bunny. Have a look at seven facts about Alex Trebek' first wife, Elaine Trebek.
She is the ex-wife (First Wife) of Alex Trebek
The former Playboy Bunny was previously married to Alex Trebek. Alex is a Canadian American television personality. He hosts the syndicated game show, Jeopardy! The pair, Alex, and Elaine tied the knot on 25th, September 1974.
They stayed married for eight years before their divorce on 13th, May 1982. She met Alex when they both worked for the Canadian Broadcasting Company (CBC).
Elaine Callei Trebek didn't have any kids with Alex Trebek
Regardless of the fact that Elaine was involved in an eight-year marriage with Alex, the pair did not share any kids of their own. The reasons for their situation remain publicly unavailable. However, Alex Trebek took up the role of adoptive father for her daughter, Nicky Callei. Nicky is Elaine's child from her first marriage to Louis Callei.
Elaine Trebek Kares is now Married to Peter Kares.
Currently (2018), the former Playboy Bunny is married to Peter Kares. Peter is a film producer. The couple tied the knot on 18th, March 2001. Unlike her previous marriages, her relationship with Peter has lasted for the longest period. The couple is still very much together. Much so that Peter has started many companies with her.
Alex on other hand is married to Jean Currivan Trebek.
Where is Elaine Trebek from?
Elaine Callei Trebek is originally from Columbus, Ohio, United States of America. She later moved to Toronto, Canada to manage a party planning business and get involved in TV hosting. The former Playboy Bunny joined CHCH-TV in Hamilton as the host of a daily talk show titled, Call Callei.
She was particularly recognized in the show for her boundary-pushing interests in sexual topics. Unfortunately, an interview with Xaviera Hollander in 1972 led to a reprimand from the Canadian Radio-Television and Telecommunications Commission. It wasn't long before she moved to America with Alex Trebek to further her professional career.
As of 2018, the former Playboy Bunny resides in Los Angeles, United States of America with her husband Peter Kares.
Elaine Trebek Kares' net worth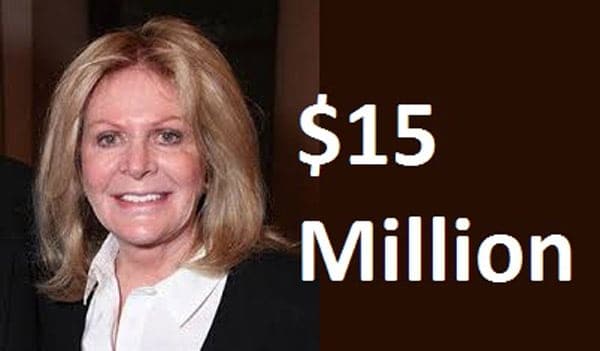 Elaine Trebek Kares's net worth estimated to be around $15 million. A significant portion of her net worth is attributed to her main source of income, business. Alex Trebek's first wife owns numerous businesses across the United States of America. Her additional sources of income are not publicly revealed hence the information on them still remains unavailable.
Even though Elaine's annual income from her businesses is not publicly known, her net worth alone is enough to give credence to her rich lifestyle.
Elaine Trebek Kares' businesses
Like most successful entrepreneurs, Elaine joined the business world as a mere rookie and eventually became a successful businesswoman. The former Playboy Bunny has managed to build several companies. They include; Scent Seal Inc. a high-tech cosmetic sampling company and ASG Media Inc.
Later she launched MAG-A-MUSIC. This is a unique entertainment packaging for CDs and DVDs to replace the jewel case. In addition, Elaine managed the operations of AFFORDABLE, an editorial-style compilation advertising page which allows smaller companies to enjoy major exposure in National Publications.
So far the businesswoman has sold two of her companies, shut down one company and still maintains a deep-discount print media placement agency called In-House Media & Entertainment Inc. and Gallery Go, an art gallery in Los Angeles.
Her plea to Alex.
Elaine made a desperate plea to Alex Trebek to retire after he suffered a heart attack. In an interview with ENQUIRER, the former Playboy Bunny explains how she rushed her ex-husband to the hospital for treatment. However, Alex is still the host of the game show, Jeopardy! And according to reports, his contract is set to last till 2020.
Wiki-Bio: Summary.
Elaine Trebek Kares is an American businesswoman and broadcaster. Having graduated with a bachelor's degree in journalism from the University of Ohio, she has been able to clutch numerous journalism related occupations throughout her professional career.
| | |
| --- | --- |
| Name | Elaine Trebek Kares |
| Age | Not Available |
| Spouse | Peter Kares |
| Kids | Nicky Callei |
| Birthdate | Not Available |
| Birth Place | Columbus, Ohio |
| Net worth | 15 million |
| Height | Not Available |