The star of "Home" has reached the age of 50. Bromstad shared this milestone in an Instagram post on August 17. He expressed his gratitude for the experiences that have led him to this point, embracing the wrinkles and grey hair as signs of a life well-lived. He noted that the past year has been particularly transformative, leading to a sense of mental, emotional, and spiritual contentment. Taking a solitary trip to Norway to mark his 50th birthday, he delved into his ancestral roots, gaining insights into his passions and preferences. Engaging with nature through hiking and kayaking, he found a deep connection and thanked everyone for allowing him another year to journey around the sun.
"Today I turn 50," Bromstad wrote in the caption of an August 17 Instagram post, "And I've earned every wrinkle and grey hair. Mentally, emotionally and spiritually content. Its been the most unique year of my life and I could not be more grateful for every aspect of my existence. Learning to love myself, warts and all, has been the hardest and most beautiful process."
Bromstad's fans, followers, and friends, including some of his fellow HGTV stars, flocked to his post to extend warm birthday wishes. Egypt Sherrod from "Married to Real Estate" wrote, "Happy 50th!!! ❤️" Actress Kim Fields chimed in with a heartfelt message: "HAPPY HAPPY BIRTHDAY HONEY!!!! Love you!!!! 😘 😘 😘"
One enthusiastic fan playfully remarked, "Happy 50th! I mean not a day over 20 but whateves 🥰 🙌🏾 🎂 🎂 🎂 🎂 👑 👑," while another expressed disbelief at his age: "Happy birthday!!! No wayyyy you're 50!! You're only mid 30s in my mind from when you won design star 🥰."
Another admirer shared, "Happy birthday! Can't wait to tell my kids. 'Lottery Dream House' is one of our all-time favorite 'watch together.' They always comment how nice you are to EVERYONE and make EVERYONE feel special. If that isn't a great accomplishment for a 50-year-old, then I don't know what is!!!"
In his Instagram Story on August 17, Bromstad also offered glimpses of his hiking adventure, showcasing his exploration of Norway's picturesque landscapes. The images captured his journey through mountainous terrain, streams, lakes, and even a cave that he playfully described as "scary but cool."
David Bromstad's Love life
The openly gay star of reality television has maintained a low profile when it comes to his personal life, leaving it uncertain who he might be romantically involved with at present. David Bromstad's marital status is not applicable, given that he is gay. His connection with Jeffrey Glasko began on a noteworthy Valentine's Day encounter in 2004 at a pub in Orlando's Firestone establishment.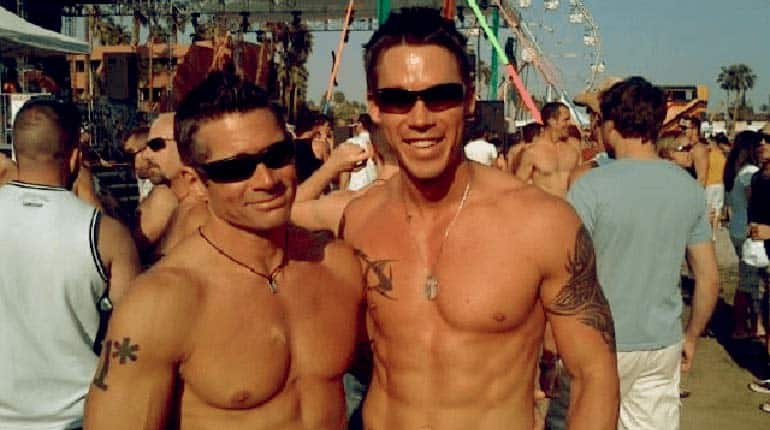 This event was part of an all-singles mixer, a gathering for potential partners. While David had harbored an interest in Glasko for quite some time, he finally mustered the courage to approach him during the Firestone event in Orlando. The two hit it off immediately and embarked on a partnership that spanned nearly a decade. Among David Bromstad's boyfriends, Jeffrey Glasko holds a prominent place due to their enduring relationship.
However, after close to ten years, David and Jeffrey chose to end their relationship, surprising many who had anticipated a more permanent connection, possibly even marriage, given Glasko's recognition as David Bromstad's significant other, thanks to their deep bond. The decision came as a shock because the two seemed inseparable. The termination of the relationship stemmed from concerns over David's struggles with alcohol and substance abuse. Unbeknownst to the public, there were complexities beneath the surface.
Behind closed doors, various undisclosed issues were brewing. Jeffrey eventually took legal action against David, asserting that they had entered into an oral cohabitation agreement akin to a marriage, and they had also jointly owned a property. Court documents reveal that Jeffrey contended that David had left him emotionally and financially scarred. Allegations were made that David Bromstad had been heavily involved in excessive drinking, promiscuity, and drug use, depleting their shared savings to fuel his indulgences.
Unfortunately for Jeffrey, his claims were dismissed by a judge due to insufficient evidence. The legal system did not find his assertions substantiated.