Originally posted on January 23, 2020 @ 9:22 pm
Former American Major League Baseball pitcher, manager, and coach Tommy Lasorda is remembered for his contributions at the helm of Los Angeles Dodgers for around two decades.
He is now the oldest living Hall of Famer after Red Schoendienst's demise in June 2018. He is also famous for his almost seven decades-long marital life with wife Jo.
How Much Is Tommy Lasorda's Net Worth?
Tommy started his playing career in 1954 and later began his career as a coach in 1973 and then worked as a manager in 1976. He has served teams like Brooklyn Dodgers, Kansas City Athletics, and Los Angeles Dodgers as a player, manager, and coach.
Upon his retirement as a manager, Tommy was named as the Vice-President of Dodgers in 1996. Later, on 22nd June 1998, he became the team's interim General Manager after Fred Claire was fired. He resigned as a General Manager to get appointed as Senior Vice President of Dodgers.
MLB Hall Of Famer Tommy Lasorda
The former baseball player has collected a hefty amount of money from his previous engagement in baseball as a player, coach, pitcher, and manager. As of 2020, Tommy Lasorda's net worth is approximately $15 million.
His decade's long professional career helped him push such a high figure in worth. He is a former baseball pitcher where he collected a high sum of money, as pitching is one of the highest-paid positions in baseball. The median salary of a pitcher is around $5.2 million; thus, he might have received in the same range.
As per Work. Chron, the average salary of a professional baseball player, is around $3.4 million per annum; he received higher than the reported amount based on his experience and fame.
The average baseball manager earns below $4 million per annum, whereas the coach is paid between $150,000 to $250,000.
Tommy Lasorda Sold His Placentia' TownHouse
Back in October 2015, Tommy sold his townhouse in Placentia for the worth of $535 thousand, which was $17 thousand over the asking price. He purchased the villa back in 1978 for the value of $80 thousand and lived in Fullerton for half a century.
The house spreads more than 1400 square feet consists of three bedrooms, a living room, a study/office, a stone-faced fireplace, and a breakfast nook. It also includes a trellis-topped patio and two-car garage.
Actually, the mansion was remodeled, adding dark walnut floors, updated kitchen, and recessed LED lighting.
Tommy Lasorda's Prolific Career In Short
Tommy started his professional baseball career in the mid-1940s after signing a deal with Philadelphia Phillies. He played for Concord Weavers but later went on to serve in the Army.
After returning from serving in Army, Tommy started playing in the Canadian-American League. He played for multiple games in the league before joining Brooklyn Dodgers. Tommy Lasorda signed a deal with the Brooklyn Dodgers in 1949 and spent a couple of years in numerous minor league teams.
Tommy also played for the Kansas City Athletics before shifting his focus as a coach and management. During his tenure as a manager, Tommy won two World Series championships and even was named NL League Manager of the Year twice.
He managed and coached the Los Angeles Dodgers. He also managed the 2000 Olympics US National Team, which went to win Gold.
Tommy Lasorda is Married To Wife Jo Lasorda.
The 92 years old former manager has the same faith in his personal life, just like his professional career. He still leads a healthy marital relationship with his long-term wife, Jo Lasorda.
Tommy and his wife, Jo, tied the knot on 14th April 1950 in a private wedding ceremony. The couple dated for a couple of years before exchanging the wedding vows.
As of now, Tommy and wife Jo Lasorda celebrates almost seven decades of blissful marital life with no issues of divorce or separation issues. They are also regarded to be one of the couples who have been able to keep their relationship work for such a long period of time in this time where divorce or separation is a common thing.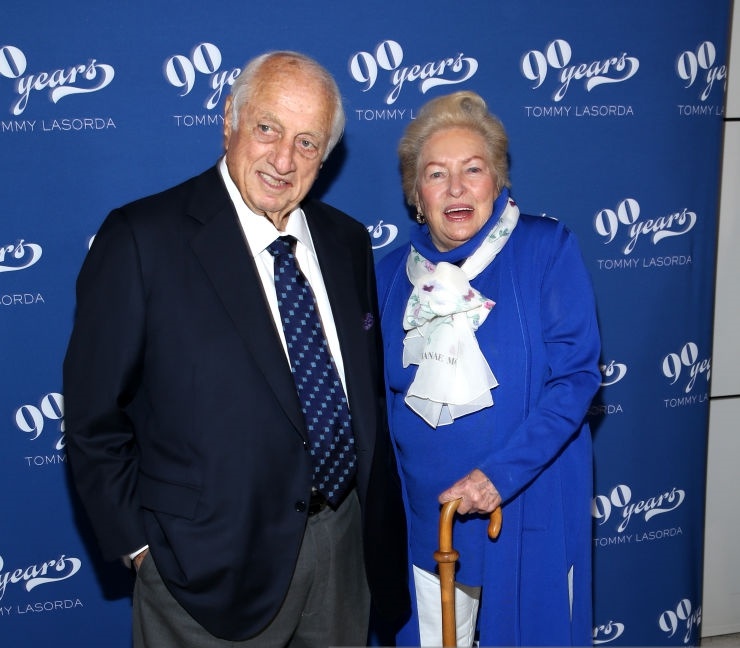 Jo Lasorda And Tommy Lasorda celebrating Tommy's 90th birthday
There is no professional and personal information of his wife, as she came into the hype after tying the knot with him.
Over their decade's long conjugal life, the pair has a daughter, Laura Lasorda. Likewise, they are also proud grandparents to their granddaughter Emily.
The Baltimore Sun reported that their granddaughter, Emily Tess Goldberg, was born in 1995, weighing 6 pounds and 7 ounces.
Tommy Lasorda's Son Death.
Did you know that Tommy also had a son who died young? During an emotional interview with Dead Spin, Tommy opened up about his son named Tom Lasorda Jr. died untimely. There were rumors that his son died of AIDS, but Tommy cleared up rumors and revealed that his son died of pneumonia.
However, Dead Spin reported that his son's death certificate claims "Probable Acquired Immune Deficiency Syndrome" as the main reason behind his death.