Scott Samuel Braun who is mostly known as Scooter Braun is an American talent manager and a businessman. Scooter has invested more in the entertainment industry, and he owns two record labels. They are School Boy Records and Raymond-Broun Media. He has worked with the Americas finest musicians including Justin Bieber, Ariana Grande, and Martin Garrix. The talent manager is one of the most known in the American music industry. Know about Scooter Braun Net worth. Also, meet his wife Yael Cohen and their kids.
Net worth: $400 Million.
Scotter Braun has achieved quite a fortune in his career. The talent manager has invested heavily in the music industry and has also worked with the prominent and most celebrated artist in the American sector. The all-time celebrity star makes working with the big American wigs in the media industry and music industry for quite some time.
Scooter has made huge net worth in his career. The net value of the talent manager is estimated to be well over 30 million dollars. Well, the celebrity maker is living his dream life at just a young age. Scotter Braun net worth is expected to be way above this, and some sources have put it to be over 400 million dollars.
But what are the sources of his big catch in the entertainment platform? Scooter owns tow records labels and has signed some luxurious deals with many artists in the American music industry.
He has worked with many celebrated artists who have paid him heavily. He is currently the manager of the most famous American musician Justin Bieber. All these are earning him a big fortune. He also owns a management firm SB Management which he is making a kill. That explains his huge net worth.
Married life with Yael Cohen. The couple has two kids  Jagger Joseph Braun and Levi Magnus Braun.
The Justin Bieber manager is a married guy. He is married to wife Yael Cohen. The couple had been dating for quite sometime before finally working the aisle together. They were officially married in Whistler, British Columbia in Canada.
The marriage ceremony which was held on6th July 2014 and it was attended by the big wigs in the music industry. In fact, Justin Bieber was the performing artist in his manager's wedding.
https://t.co/FnpxsdplpX pic.twitter.com/KwAKGcSkJj

— Scott "Scooter" Braun (@scooterbraun) February 12, 2018
The couple has been leading a happy marriage together. They have been blessed with two kids; both are boys.  Their firstborn son Jagger Joseph Broun was born on 27th August 2014. Their second born, Levi Magnus Broun was born on30th November 2016, and the couple shared their joy in social media.
Know more about Scooter Braun's wife, Yael Cohen
Yael Cohen was born on 5th November 1986 in South Africa. She was raised in Vancouver Columbia, and she holds Canadian citizenship.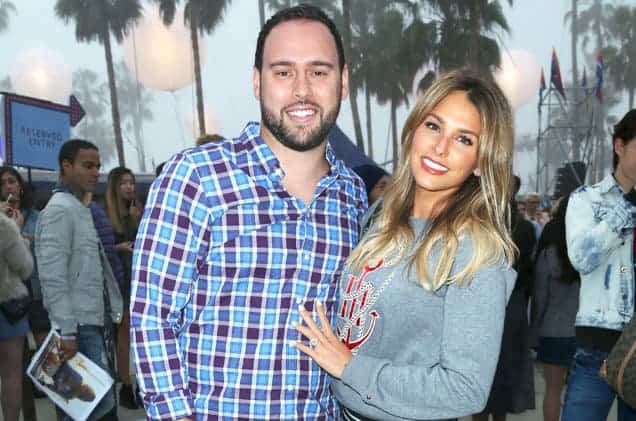 His wife Yael is the founder and the CEO of Fuck Cancer group which is used to raise awareness about cancer and ways of combating it. Her active role in the fight against cancer has seen her awarded Queen Elizabeth 2, Diamond Jubilee Medal. She also garnered many other awards.
Scooter Braun's Wiki bio
Scooter Broun was born on18th June 1981 in New York City, New York. The parents of the renowned talent manager were immigrants from Hungary, and they escaped the Holocust to settle in the States.
He is 40 years old. He attended Greenwich High School in Connecticut before joining Emory University in Atlanta Georgia in 1999. The talent manager has achieved a lot in his career.