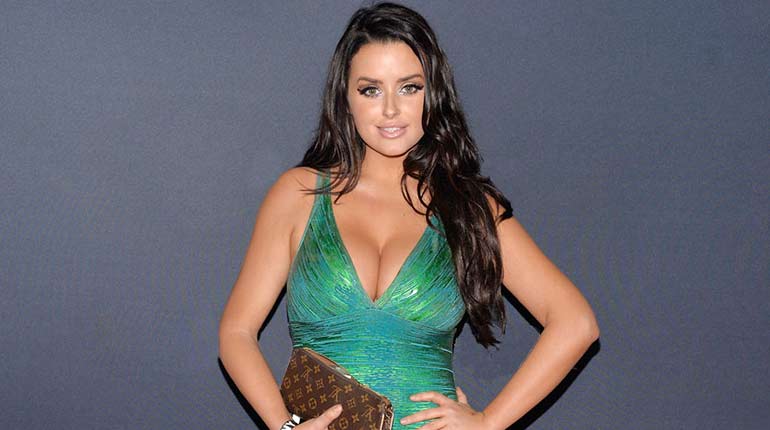 Originally posted on May 27, 2017 @ 3:59 pm
The super famous model, Abigail Ratchford has a lot of men fan followers because of her super personality and the never-fading hot body. She is a known model of the glamorous industry and has acted in a couple of TV shows as well.
Though the model is idolized by a lot of men, looks like the girl doesn't have much luck in her personal life when it comes to dating. The glamorous queen has been found to be single again after her affair with Jamie Iovine.
Abigail is born in Scranton, Pennsylvania on February 2nd, 1992.
Who is Abigail Ratchford's current Boyfriend?
Known as the 'Queen of Curves', Abigail Ratchford is single now, yes! You heard us right! The glamorous Diva has never been able to put up with relationships pretty well.
Source: Pinterest
Though she has been super successful in her modeling and acting career, the 27-year-old American actor has seen failing in her personal relationships quite too often. She was dating the wealthiest Jamie Iovine who happens to be the son of an American producer Jimmy Iovine.
However, the couple had to part ways in 2015 as Jamie came across as someone who could not compromise on his beautiful girl friend's late night parties and work appointments too. A little clingy isn't it?
As per the records, the hottest and the glamorous woman of the modeling field is now single and she has no boyfriend currently. We need to wait and watch who that lucky person is with whom she is going to be spotted next.
How does the Dating History of Abigail Ratchford look like?
The most curvaceous woman who is ruling the modeling space of America seems to be quite choosy about her dating. Looks like the lady did not want to compromise with her parties and late night work related appointments with her wealthiest ex-boyfriend Jamie too. Isn't that quite interesting?
The 27-year-old beauty has been spotted several times with a lot of men in public and she has brushed that away with her stunning personality as just being "Good Friends" term, which we do not seem to understand quite very well.
Abigail has been seen a lot of times with the business tycoon James Peperno as well. However, there has been no evidence about them dating or living together.  Abigail not so fond of revealing about her personal relationship status to the public chooses to stay calm about the issue till date after her break-up with Jamie Iovine.
There were a lot of rumors about her dating the footballer, Johnny Manziel, there have been no proofs that are strong to prove what is happening between the two as of now but, Abigail dismissed the issue by saying that they are just friends and nothing more.
While the paparazzi are around the famous celebrities like her, it's amazing to know how the 27 Read More »Abigail Ratchford Boyfriend, Dating History, Car Wash