MythBusters is one of Discovery channel's most televised and watched show. The show pushed known scientific facts to the limit in an exciting and never seen but controlled manner. All these were done by some of the best cast who had a chemistry that was fun and entertaining to watch. One such member is Kari Byron, and we get to focus on her life, including her marriage to husband, Paul Urich. Also, an area of focus is Kari Byron's net worth, career, age, wiki-bio and so much more.
Kari Byron and Husband Paul Urich's Married life.
We put the MythBusters' marriage life to the test, and the results were positive. If you are her fan, you may have noticed sometime in one of the show's season that Kari was pregnant. For many who aren't aware, that was the result of her marriage with her husband, Paul Urich.
MythBuster former cast Kari Byron and Paul Urich got married in March of 2006 and had been going strong ever since. In fact, they even have an 8-year-old daughter named Stella Ruby born on June 28th,2009. With over a decade of marriage together, they grow stronger with each passing year with no information of separation.
They both have a taste for artwork and is probably one of the many reasons that attracted them together in the first place.
Kari Byron's Husband Paul Urich Bio: net worth, career, parents.
Paul doesn't earn much, but he is going places. His marriage to famed superstar Kari probably gave him a little more recognition. However, that's not to say he hadn't made a named for himself. Straight off of college at The University of San Francisco where in pursuit of an arts degree, he opened up shop and exhibited his work.
His friend, dorm-mate and fellow artist partnered up with him and helped him open up an online platform for their art.
Kari Byron's husband Paul Urich's net worth is still unknown. He makes most of his money through art sales and exhibitions. One of the rooms in their home is an art studio where he works on his craft. Information about the artist' parents may be unknown, but he does have family from his wife's side. Dennis and Sue Byron are his parents in law while Summer Byron makes up for his sister in law.
Kari Byron Net Worth is $1.5. Know Her Salary.
Kari Byron's net worth as of 2018 is valued at $1.5 million. This has mostly been as a result of the hard work she's put in over the years working with MythBusters. The TV star appears on all 12 seasons of the show, regardless of whether she was pregnant with her daughter Stella.
Other sources of income in Kari Byron's Net Worth include her artwork. Even though she stopped showcasing her sculptures since they conflicted with her work at MythBusters she still made a lot from it. Fans of the show wouldn't get enough the program and mostly asked questions related to the show and not her craft.
Kari Byron's Salary is $150,000 to $250,000 per year.
What is Kari Byron doing now?
When Kari Byron announced that she was leaving Mythbuster at the end of the 12th season, fans were devastated. She got involved in the Travel Channel Show, Thrill Factor and later in Pumpkin Chunkin in the science channel.
The former MythBusters star has made several guest appearances in various shows like Rocket Ships and even a Netflix show called White Rabbit Project. You can mostly count on her to appear on anything nerdy such as an educational science program called Head Rush that she hosted.
Currently, she is working on the release and distribution of her book, Crash Test Girl.
Career details.
The author didn't always have it easy on the show. In fact, it took some getting used to being she became a member of the team. Before all the fame, she did undertake a couple of odd jobs to make ends meet.  After she completed her graduating from the University of San Francisco, she toured the world as an artist but later settled down for a job in toy-prototyping.
It was here that she got involved with MythBusters and managed to make millions over the span of 12 seasons. Her career has been an upward trajectory ever since and doesn't look like its going to stop any time soon. Not with her daughter to feed.
Kari Byron Body measurements
The artist weighs 67 Kgs which roughly amounts to 147 lbs. With a height of 5 feet and 8 inches, she has body measurements of 36 by 26 by 36. The redhead sometimes dyes her hair blond.
Apart from being short in height, she's also short on Religion. This has always been the case since her childhood when her grandmother told her a certain religious Buddhist girl wouldn't see the Kingdom of heaven. The words stuck to her and are probably one of the reasons she stuck with Science – to prove anything she can.
Weight: 67 Kgs.
Height: 5′ 8"
Body Measurement: 36X26X36
Did she have plastic surgery?
Rumors hit the internet after fans noticed a sudden increase in her bust. Most speculated that the weight gain must have been as a result of her pregnancy. The same was also said about her breasts increase.
Not everyone was convinced though. Others went on to state that she had gone breast augmentation surgery to enlarge them. Other says she uses Botox to ensure her skin glows and stays wrinkle-free. All in all, no one can say anything for sure. The TV star hasn't paid much attention to these rumors going on about her nor has she confirmed nor denied anything.
Wiki-bio: age. Facts.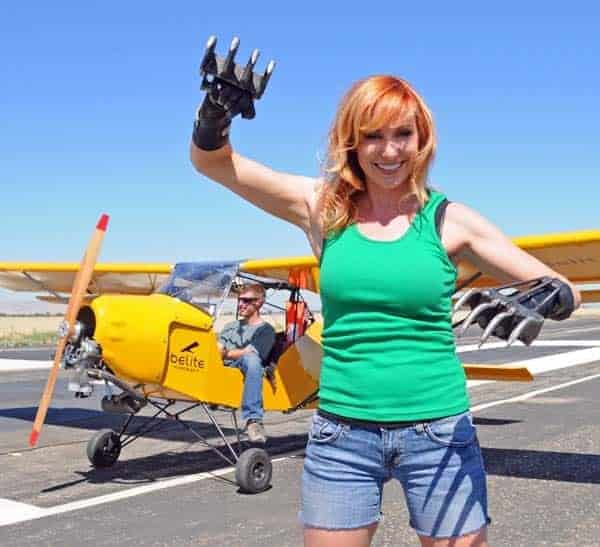 | | |
| --- | --- |
| Name | Kari Byron |
| Age | 43 |
| Date of Birth | December 18th, 1974 |
| Place of Birth | Santa Clara, California |
| Profession | TV personality, artist |
| Net worth | $1.5 million |
| Spouse | Paul Urich |
| Kids | 1 |
| Height | 5' 8'' |
Kari Byron is 43 years old as of now. Born as Kari Elizabeth Byron on December 18th, 1974 in Santa Clara California, the 43-year-old went on to Los Gatos High School during her teenage years. She later pursued her passion for Arts and Film in San Francisco.
Besides being an atheist, the 43 year is also a vegetarian. Kari Byron got squeamish when they dealt with anything germ related since she's a germ freak. Much later in the show, she was seen eating fish and had to reiterate that she was in fact pescetarian and only used the word vegetarian to avoid explaining the word.
Summary.
Kari Byron did quite some jobs. However, none of them helped her career the way MythBusters did. In fact, most of her net worth is from the show. The 43-year-old lives with her husband, Paul Urich and their daughter were almost turning nine years on June 28th.