The simple things we get as presents we get from our parents and friends could come a long way in shaping our career and future. All provided we appreciate it and take care of it. Take the case of Luke Bryan for example. The famous country singer got his first guitar as a teenager and went on to become a worldwide singer, and guitarist. Find out more about the singer Luke Bryan's net worth, sources of income, lifestyle including houses, cars and so much more here.
Luke Bryan's Net worth in 2018 is $90 Million.
The Country singer and guitar has been able to multiply his net worth in a very short period. Just last year, he made $42 million through his music. These included album sales, singles, EP's and live performances. This made him the 3rd highest earning country singer and 19th most expensive musician in the whole world. This meant that if you wanted to attend one of his concerts you'd probably end up selling your TV or something to afford the ticket.
If you think that's remarkable wait till you hear what he made this year. Luke Bryan has a net worth estimated at around $90 million. This year he took his vocal talent and guitar skills worldwide and on a world tour. The whole spectacle titled What Makes You Country Tour started in Missouri in February and will end on October in Detroit Michigan.
The Country singer has been active since 2006 with six studio albums to top it all off. These include I'll Stay Me, Doin' My Thing, Tailgates & Tanlines, Crash My Party, Kill the Lights and the one he's on tour.
Luke Bryan's Houses, Cars, and Rich Lifestyle.
When this country singer is done traveling the world, kicking his cowboy boots and tilting his hats to his fans, the country boy will return to his home in Brentwood, Tennessee. Luke Bryan bought the house at $620 thousand and is probably worth a lot more now that he has lived in it if he were to sell the place.
If you were wondering how the place looks like, it definitely doesn't have a barn as is the case of most country lovers that's for sure. It's a 6-bedroom mansion with five bathrooms and a three-car garage. He also owns a 150-acre farmhouse called Redbird after his late his sister that was designed by Chad James.
Moving on to his rides, we doubt there is any country male musician who doesn't own a truck. The country singer doesn't disappoint as he owns a couple of 4 wheel trucks. The most conspicuous of all was his partnership with Chevrolet to produce a 2017 model called The Luke Bryan Suburban Concept. Other rides include a black Chevrolet Silverado
To sum it up, Luke Bryan's Net Worth has a luxury house and fast cars.
The career that gave Luke Bryan a Huge Net Worth.
Even though the Georgia town resident's active years date back to 2006 according to his Wikipedia page, music has been in his blood for long. Part of his early teenage years was spent writing songs for his friends Travis Tritt and Billy Currington.
After college, he got nudged by his father to try his music career mainstream. While at Nashville, he found success with his song All My Friends Say. Soon after, it wasn't just his friends talking about it but the whole world. The Nashville star went on to release a couple of albums after signing with Capitol Nashville records that sold millions of copies.
Family, Wife, and Kids
The Country singer likes to keep it laid back with his wife and blended family. Luke Bryan met the love of his life, wife, Caroline Boyer, back in college and decided to put a ring on her finger after dating for quite a while. The wedding took place on December 8th, 2006 and brought forth two sons, Thomas Boyer and Tatum Christopher Bryan.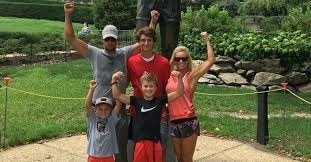 In 2007 his older sister Kelly died of unknown causes. Her husband had to raise the kids all by himself. However, death followed them again and struck him down. The singer adopted the three orphans Jordan, Kris, and Til and raised them as his own.
Wiki-Bio, Age, Facts
| | |
| --- | --- |
| Name | Thomas Luther Bryan |
| Age | 41 |
| Date of Birth | July 17th, 1976 |
| Place of Birth | Leesburg, Georgia |
| Profession | Singer, songwriter |
| Net worth | $90 million |
| Spouse | Caroline Boyer |
| Kids | 3 |
| Height | 6 feet |
The songwriter was born in Leesburg, Georgia on July 17th, 1976. He had two older siblings who both succumbed and died. His brother died in a car crash while his sister autopsy couldn't explain her death. He enrolled at Georgia Southern University where he majored in Business Administration.
After graduating in 1999, he delayed his career and moved to Nashville while coping with his brother's death. However, once his career kick-started, the 41-year-old seemed to be everywhere. He even appeared as a judge in American Idols alongside Katy Perry.
Summary
At the rate at which Luke Bryan is headed, he could as well top some of the highest paid musicians like Drake who stood at $94 million. More than doubling his net worth within a year isn't a feat anyone can achieve especially at his age. It looks like the Chevrolet company will still use him as their brand ambassador owing to his rich lifestyle.