As one of the longest-serving head football coaches in the history of college football, Kyle Whittingham has created a legacy of his own.
In his double-decade stint at the University of Utah, Kyle has accomplished many laurels worthy of his skill and reputation such as the AFCA Coach of the Year 2008.
Coming from the family of a renowned NFL player, Fred Whittingham, Kyle was invested in sports right from his childhood and football was on top of everything for him.
The present net worth of Kyle Whittingham has been amassed over his career spanning more than 20 years.
Kyle Whittingham is currently in a happy relationship with his wife, and the couple has four children from their marriage.
On the other hand, there is more to know about Kyle, and that can be done with a look at the following information.
Kyle Whittingham Salary, Net Worth.
A description of the biography of Kyle Whittingham cannot be complete without data about his salary, cars, house, sources of income, career information, and net worth. These details could be outlined as follows:
Kyle Whittingham's net worth is $11 million.
The annual salary of Kyle Whittingham was estimated in 2019 to be $3,400,000, and it varies according to the terms of his contract.
The primary source of income for Kyle Whittingham is the ten-year contract with the University of Utah Utes which was started in 2011.
The total pay according to the contract has been estimated at $27,950,000.
Kyle Whittingham's house is located in Salt Lake City, Utah and there is no specific information about the details of his house.
There is no clarification about the cars owned by Kyle Whittingham and the lack of official evidence to support the same.
He played linebacker from 1978 to 1987 before turning to a full-time coaching career in 1988 and becoming a head coach in 2005.
However, his most prominent and renowned accomplishment was in 2008 when Utah had an undefeated regular season and also secured qualification for the 2009 Sugar Bowl.
The early coaching career of Kyle Whittingham started as a graduate assistant for BYU in the 1985 and 1986 seasons.
He was appointed as defensive coordinator at the College of Eastern Utah in 1987, and following the end of the season, he took up a job at Idaho State where he stayed for five seasons.
Then, Kyle Whittingham joined his father, Fred Whittingham as defensive line coach at the University of Utah.
He replaced his father in the 1995 season as the defensive coordinator and became a head coach in 2004.
His contract with the University of Utah was extended till the 2020 season in 2016 and is entitled to receive an annual salary of $3.3 million.
The extension of the contract was due to Kyle Whittingham's record of being the second-highest coach regarding winnings in the history of the school.
Kyle Whittingham also played linebacker for the BYU Cougars from 1978 to 1981 and was also named the defensive MVP at the 1981 Holiday Bowl.
He was inducted into the Holiday Bowl Hall of Fame in 2009.
The other accomplishments in the playing career of Kyle Whittingham include playing as a linebacker for the New Orleans Breakers and Denver Gold of the USFL and Calgary Stampeders in the CFL.
Kyle Whittingham is Married to his Wife Jamie Daniels.
Kyle Whittingham is married to his wife Jamie Daniels. He married Jamie in 1983 one year after graduating from BYU with a bachelor's degree in educational psychology.
The couple has four children, two sons, and two daughters, from their marriage.
The names of Kyle and his wife Jamie's sons are Alex Whittingham, and Tyler Whittingham and their daughters are Melissa Whittingham and Kylie Whittingham.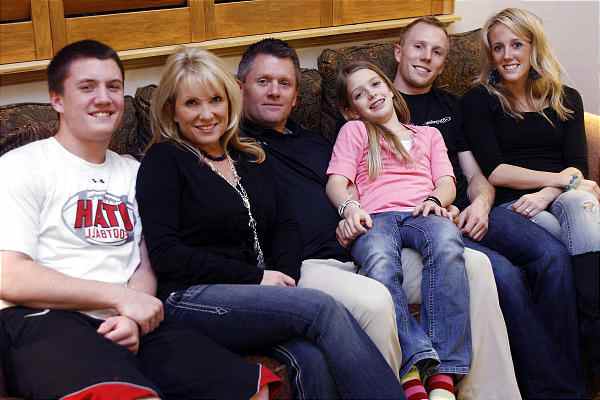 Kyle Whittingham: Age, Wiki-Bio, Summery.
He was born Kyle David Whittingham on November 21, 1959, in San Luis Obispo, California to Fred Whittingham and Nancy Livingston Whittingham.
Also, he has two brothers, Brady Whittingham, and Fred Whittingham Jr., and one sister, Julie Whittingham.
The net worth of Kyle Whittingham has been estimated at almost $11 million, and he is presently employed as the head football coach for the University of Utah.
Kyle Whittingham is of American nationality, and his ethnicity is white.
Futhermore, he has been happily married to his wife, Jamie Daniels since 1983 and they have had four children together from the marriage.
The couple has two sons named Tyler and Alex Whittingham, and the daughters are named Melissa and Kylie Whittingham.
He has two notable awards in his purse- the Paul 'Bear' Bryant Award and the AFCA Coach of the Year in 2008.
Kyle's father, Fred Whittingham is an NFL veteran having played as a linebacker for teams such as the New Orleans Saints.
He entered into a contract for ten years with the University of Utah in May 2011 and is presently employed as the head football coach.
Age
62 years (Born November 21, 1959)
Net Worth
$11 million
Spouse
Jamie Daniels (Wife)
Kids
Alex Whittingham (Son)

Tyler Whittingham

Melissa Whittingham (Daughter)

Kylie Whittingham (Daughter)

Occupation
Head Football Coach at the University of Utah
Parents
Fred Whittingham (Father)

Nancy Livingston Whittingham (Mother)

Nationality
American
Ethnicity
White