Five years after their engagement, HGTV stars Keith Bynum and Evan Thomas openly revealed in a recent interview that they have completely lost interest in the idea of marriage.
The couple soared to stardom through their Detroit-based home restoration show, "Bargain Block," which made its debut in 2021. Over the years, they've skillfully evaded inquiries from fans and reporters about their wedding arrangements by claiming their busy schedules left no room for planning. However, in an interview with Instinct Magazine on October 25, 2023, they candidly admitted that they've simply opted not to pursue marriage.
Bynum acknowledged that this admission might not be what people want to hear. He further explained that they have grappled with how to address the numerous inquiries regarding their nonexistent wedding plans.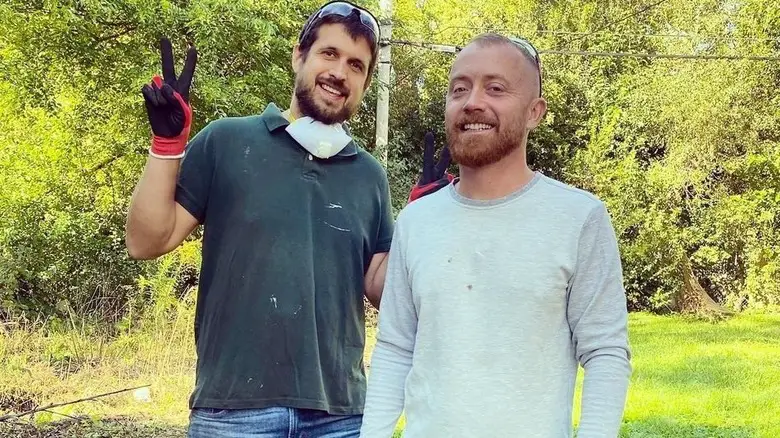 Keith Bynum & Evan Thomas Have Multiple Reasons for Not Wanting to Marry
In 2013, Keith Bynum and Evan Thomas first crossed paths on the online dating platform Match.com, an initial encounter that took place while they were residing in Boulder, Colorado, a picturesque suburb of Denver. Their connection grew over time, and in March 2018, they officially became engaged.
Their journey together has been marked by a deep bond and shared passion for building a life intertwined with creativity, encompassing projects like renovating their cherished "forever home" located in Detroit. Additionally, they recently expanded their horizons by investing in a vacation property in northern Michigan, further solidifying their shared dreams and aspirations.
However, during a conversation with Denny Patterson, a reporter from Instinct Magazine, the subject of their engagement elicited a somewhat hesitant response from the couple. Evan Thomas conveyed a sense of discomfort, stating, "The whole 'engaged' aspect is a bit peculiar."
After some initial hesitation, Bynum offered an explanation, saying, "People frequently inquire about this whole wedding thing, and I struggle to convey that we have absolutely no interest in it. Because that's not the response most folks anticipate. We simply don't feel the need to have our relationship legally defined by the state."
As Bynum went on to express his contentment with their current relationship status, Thomas concurred, affirming, "I'm perfectly happy as things are."
However, Thomas added, "It's not that I'm against the idea of a legal commitment."
Bynum chimed in, saying, "But the fact that there are so many questions about it, it just feels peculiar," leading to shared laughter between the couple. He continued, "I appreciate the curiosity, but it's perplexing to know how to respond!"
"Also, I hate the idea of a bunch of people staring at me the entire time," he continued. "I already live like that. The idea of that does not sound fun."
Thomas, meanwhile, said his main reason for avoiding a wedding is financial.
"I'm just cheap, so the concept of a wedding sounds like a waste of money," he admitted.
He further elaborated, stating, "In essence, we already feel like we're in a marital relationship, so getting legally married wouldn't substantially alter our situation, apart from perhaps some tax-related aspects."
It's worth noting that in 2015, the U.S. Supreme Court issued a landmark ruling that granted nationwide marriage rights to same-sex couples. This decision ensured that they could access the same spousal benefits enjoyed by opposite-sex couples, spanning a range of areas such as employee health insurance and pension plans, as explained by the online legal resource Justia.
Furthermore, in December 2022, President Joe Biden signed legislation recognizing gay marriage into law, according to reports from the Associated Press.
Reflecting on these legal changes, Bynum acknowledged, "We probably should delve deeper into understanding the benefits, because we are quite uninformed in that regard. I realize that these benefits hold significant value for many people. I value having the option; I just want to be able to exercise that option at the time that feels right for us. But rest assured, I'll keep that option open."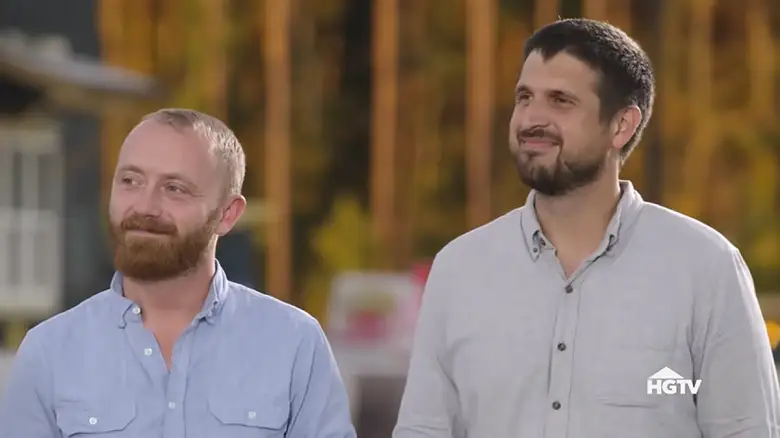 'Bargain Block' Stars Say They've Never Felt Any Pressure From HGTV to Highlight or Hide Their Relationship
HGTV boasts several prominent married couples who host their own shows, ranging from the likes of Ben and Erin Napier from "Home Town" to Egypt Sherrod and Mike Jackson from "Married to Real Estate." Nevertheless, within this constellation of couples, Keith Bynum and Evan Thomas stand out as the network's sole same-sex couple with their very own show. Their series also features their close friend and real estate agent, Shea Hicks Whitfield.
When Instinct Magazine's Patterson inquired about their role as potential role models within the LGBTQIA+ community, Bynum and Thomas revealed that they seldom dwell on this aspect. They noted that HGTV executives and producers have never raised the topic.
"It's never been brought up," Thomas confirmed. He went on to express his belief that the network allows them to be authentic and unfiltered in their portrayal. There is no attempt to steer or modify their identity in any way. They can simply be themselves, going about their daily business, which, according to Thomas, is the most appealing aspect of their experience on the show.
Noting that the network has neither attempted to "exploit" nor conceal their relationship, Bynum humorously remarked, "They're not nudging us in a corner, urging us to hug more just for the cameras."
He went on to express his gratitude for the fact that their relationship is a non-issue at HGTV. "It's just such a non-thing, which I am incredibly thankful for," he said. "Many people have put in a tremendous amount of effort to get us to this point, where I don't even need to discuss it at work. I am truly appreciative." Bynum emphasized that they are both acutely aware of the significant progress made in the LGBTQ+ community, ranging from achieving marriage equality to greater representation in the entertainment industry. He also recalled the excitement of meeting openly gay HGTV stars like Jonathan Knight from "Farmhouse Fixer" and David Bromstad from "My Lottery Dream House."
In a HGTV Pride Month video from 2022, Bynum expressed to Bromstad how much his roles on the network had served as a source of inspiration for him.
"I'm from the South, so being gay isn't the easiest thing a lot of times," he told Bromstad. "So seeing that on HGTV… you know, I was like, 'I can get this dream, we can. You know, I can be on HGTV just like David did!' So, thank you for that because it really changed my life."