On the HGTV show "Married to Real Estate," Egypt Sherrod and Mike Jackson specialize in guiding clients toward their dream neighborhoods in Atlanta, Georgia, challenging notions of affordability.
Their extensive real estate expertise comes to the forefront as the couple navigates the market with precision, making intelligent property purchases and executing strategic renovations. Juggling these professional endeavors alongside the demands of a busy family life, Egypt and Mike showcase a unique blend of skill and balance in each episode.
Some Facts we bet you didn't know about Egypt Sherrod
Early Life and Education:
Born on November 16, 1976, in Philadelphia, Pennsylvania.
Raised in her grandparents' home, slept in a closet that only fit her bed, dreaming of a larger space.
Holds a Bachelor of Arts degree in broadcasting and telecommunications from Temple University.
Studied theater at New York University's Tisch School of the Arts.
Holds designations such as Master Certified Negotiator, Accredited Buyer Representative, Certified Residential Specialist, and Certified Distressed Property Expert.
6. Started hosting on a jazz station at the age of 18
Became the youngest radio station music director in the country at 19.
Comes from a family with a background in real estate, viewing it as a way to earn retirement money.
Bought her first home at 24 and became a licensed real estate agent in 2002.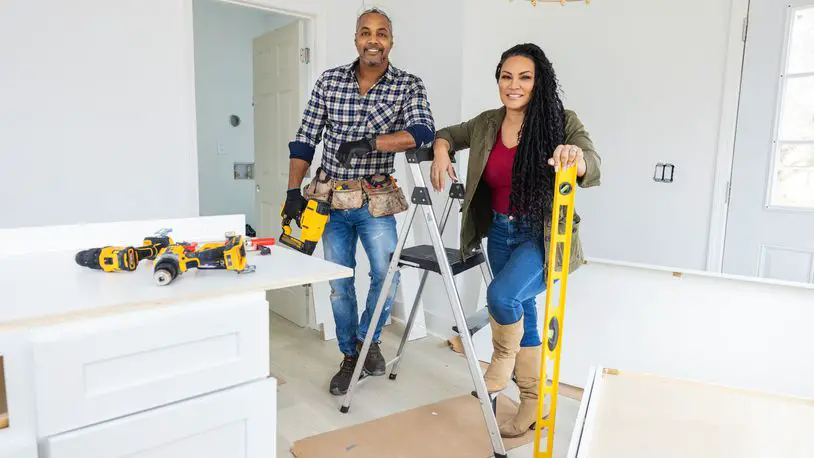 Correspondent on the Maury show and the number one radio personality for New York City's WBLS 107.5.
Syndicated radio program in more than 60 cities throughout the U.S.
Transitioned into real estate after receiving a casting call to host "Property Virgins."
Became pregnant during the filming but continued with the show.
Moved to Atlanta for a new job, hosting WVEE V-103, while continuing to film "Property Virgins."
Left the radio station due to overwhelming demands of family life, career, and postpartum depression.
16. Recurring appearances on NBC's Today Show, CNBC, FOX, CNN, HLN, and other platforms.
Authored the bestselling book "Keep Calm…It's Just Real Estate: Your No-Stress Guide To Buying A Home."
Starred in the 2012 film "Life, Love, Soul."
Hosted HGTV's "White House Christmas Special," the Rose Parade, and the HGTV "Urban Oasis" Giveaways.
Hosted "Home Delivery" for Tribune's syndicated networks before HGTV.
Sought-after speaker and moderator, hosted the stage at Oprah's "The Life You Want Tour."
Invited as a recurring 'Hot Topics' guest and lifestyle pundit on various programs.
Hosted the reunion special of the Oprah Winfrey Network series "The Haves and the Have Nots."
24. Since 2022, stars alongside husband Mike Jackson in HGTV's "Married to Real Estate."
Served as judges on Season 2 of HGTV's "Rock the Block" and were competitors in Season 3.
Will be appearing on the new season of Married to Real Esteate season 2
HGTV revealed the fate of new season of Married to Real Estate
In March 2023, HGTV greenlit the production of a third season for its popular show "Married to Real Estate." Contrary to the initial projection of a 2024 debut, the network surprised fans by announcing an earlier premiere date. A November 16 press release revealed that the 12-episode third season, hosted by Egypt Sherrod and Mike Jackson, is set to air on Thursday, December 28, at 9 p.m. Eastern.
The season's inaugural episode promises an engaging venture as Sherrod and Jackson embark on a quest to find the perfect home for a couple in Roswell, Georgia, just outside their own residence in Atlanta.
The couple is in search of a space that accommodates an office, playroom, and yoga studio. Once a suitable property is secured, the duo will dive into the renovation process, adding personalized finishing touches to make the home truly their own.
In addition to the captivating real estate endeavors, the upcoming season will provide a peek into the personal lives of Sherrod and Jackson, adding an extra layer of intimacy and connection for the viewers. With its mix of property exploration, renovation challenges, and insights into the hosts' lives, the third season of "Married to Real Estate" is poised to be a must-watch for fans of the series.
The Good News was delivered on Egypt Sherrod's Special Day, Her Birthday
The anticipation for the upcoming season of "Married to Real Estate" is reaching new heights, and HGTV executives couldn't be more thrilled. When announcing the renewal for the show's third season, a senior executive at HGTV expressed their excitement about Egypt Sherrod and Mike Jackson, acknowledging them as the network's rising stars.
It's not just their unparalleled expertise, passion, and authenticity that make them stand out; it's also their aspirational relationship, commitment to community, and the portrayal of their genuine family life that resonates strongly with the audience.
Adding to the festivities, Egypt Sherrod found herself celebrating two significant occasions this year. The news of the third season coincidentally aligned with her 47th birthday. Sherrod took to her Instagram page on November 16, sharing a photo of herself with the caption, "It's my birthday, y'all! Gratitude for another spin around the sun. 11-16. #scorpiowoman." The post prompted an outpouring of birthday wishes from fans and friends in the comment section, turning the virtual space into a lively celebration for the beloved host.