India Royale has a made her name for herself on social media platforms. She is an Instagram influencer.
Many people know her for posting her family, selfies, as well as lifestyle photos to her highly acclaimed account. She started off simple but now has garnered more than 200k followers on the social media account.
Although there isn't much about her, this review will share a couple of things about her life, career, kids, an affair with Lil Durk. Stay glued!
India royale and Lil Druk dating life.
India is in a relationship with the rapper Lil Durk. There have been rumors that the two are not in good terms.
But the couple's relationship seems to be just opposite to the rumor. In fact, Lil Durk recently dropped a new music video called India.
In this video, Lil Durk expresses her love towards his girlfriend, India Royale. The song is a solo off his album called Signed to the Streets 2.5.
It was released in October 2017.  It is vivid that the rapper has the look of love in his eye in the music video directed by Jerry PHD.
In the song, Durk says that he cannot lie, he can't tell his friends his in love, and he feels shy about it. He says he and the girl are turned up from the Chi. However, he does not ask her about the other dude.
He says other men are jealous of his love for her, and says many people will say much about him, all because they hate him.
Also, in the video, she is seen with Durk being inseparable as they spend time showing their affection in a bathroom. Sooner, we have seen the couple in a steamy bedroom scene. Clearly, the two are in love, and that is just it.
Lil Durk and Girlfriend India Royale getting married?
I know many fans of this famous rapper would love to see this guy getting married to his girlfriend. On other hand, few girls would be more than happy to hear his split. Anyway, looking at the present situation, keeping all the rumors about their breakup and troubled relationship about the couple, they seem pretty happy together.
As for Lil Durk getting married to his current girlfriend India Royale, it is hard to tell. They haven't announced any serious commitment yet.
Engagement would be a good signal, but then again, Lil Durk is not engaged to India Royale. So let's keep this a matter of inspection. Let's see how their relationship will take a turn.
India Royal Daughter
Now you know that she isn't yet married to rapper Lil Durk. But did you know India has an adorable little daughter, and she named her Sky?
She often shares the picture of Sky (her daughter) 0n social media like Facebook, Instagram, and Twitter. Here are a few pictures of India Royale's daughter on Twitter with the caption:
Nothing is better than having a miniature version of yourself.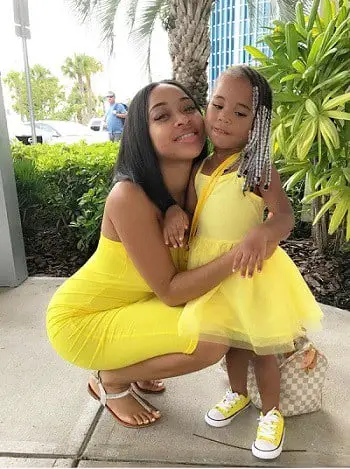 Her Net Worth and Career
India Royale is a digital influencer. She has also appeared on one episode of the short-lived series APB, aired by Fox.
Currently, there is no information about her earnings as well as her net worth. Given the fact that she doesn't have an outstanding career and all her fame is because of her man Lil Durk, it is obvious that her Net Worth can't be a subject of gossip.
Drama with Floyd Mayweather's daughter, Iyanna Mayweather
Floyd Mayweather's daughter, Iyanna Mayweather called India Royale ugly on Twitter. The comments were very rude, and India Royale is absolutely gorgeous. The 17-year-old seems like a spoilt and gets in the way of any soul.
However, the comment did not stop Durk from showing his love for his girlfriend. He posted a picture of his India on his Instagram account a couple of hours of Iyana made the negative remarks. The rapper had something to say about Iyanna. He immediately posted an image of India on Twitter with the caption:
I don't want nobody else
I don't want nobody else @prettyindie 💙👅 pic.twitter.com/XoZywptZ28

— THE VOICE (@lildurk) November 9, 2017
According to his post, Lil Durk said that everybody is not in India's position, they are gone, and they can say whatever they want to say, but no one can mess with the couple. He further said, if it is not about India and him, then nothing else matters.
Wiki bio: Age, Birthday.
| | |
| --- | --- |
| Name | India Royale |
| Residence | United States |
| Ethnicity | African American |
| Profession | Digital influence and actress |
| Affair with | Lil Durk |
| Kids | Sky |