The Mexican culture is known for its rich cuisine. A Mexican restaurant would never miss taquitos, tamales, tacos and spicy Tortas. But that's not all. A renown chef by the name Pati Jinich can whip just about anything provided with the right ingredients. You may know her from the PBS show Pati's Mexican Table. Get to know more about her life, including Pati Jinich net worth, husband and sons, parents and so much more here.
Chef Pati Jinich is married to husband Daniel Jinich.
Before discussing Pati Jinich's Net worth, know her married life and husband.
It's always known that the way to a man's heart is through his stomach. Not saying that her husband is over-enthusiastic about food, but her delicacies are some of the reasons he bagged her. He definitely isn't letting her go anytime soon.
The PBS chef, Pati Jinich got married to her husband Daniel Jinich back in 1996 and have stayed together for over two decades. Daniel, like her, is also Mexican. The duo met on an arranged blind date and hit it off from there. Soon after, she got hitched at age 24 while still living in Mexico. Pati Jinich and husband Daniel Jinich finally relocated to Texas to start their little family of 5.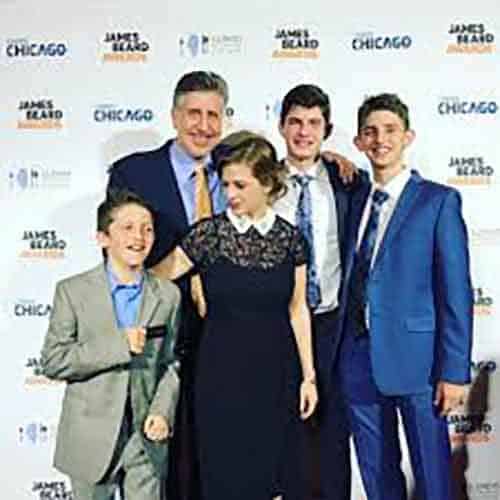 So just how much do you think you know about her husband? We'll highlight that next.
A short bio on who her husband Daniel Jinich is. His family, career.
Chief Pati Jinich's husband may not have a Wikipedia page yet but has one hell of a résumé. According to his LinkedIn, he has been working at ACON Investments L.L.C since 2000. Not only was he promoted from a general partner but also got a raise as the Managing Partner of the same company.
All this is attributed to his experience and academic qualifications. When it comes to education, he has his work cut out for him with a background at Harvard Business School where he attained a Master's in Business Administration. Prior to that, Pati Jinich's husband Daniel Jinich achieved a Bachelor's honorary degree in Business Administration at the University of Pennsylvania.
Other corporate affiliations include serving as a Chairman to the board at Injured Workers Pharmacy, LLC. Moreover, he is also the director at BioMatrix Holdings, LLC. Not to bore you with details, he is a very high ranking official in quite some corporate business firms.
Unlike his wife, some things about Daniel's family and early life have been hushed up. Pati Jinich's husband, Daniel Jinich isn't a man of many words and hasn't shared much about his personal life.
Meet Pati  Jinich's 3 Sons: Juju Jinich, Sami and Alan Jinich.
Before we tell you anything about Chef Pati Jinich's parents let's first talk about her children.
The PBS star juggles her two careers and still has time to bond with her three sons. The help her out in the kitchen as seen through her tweets. The boys are her whole world, and she couldn't emphasize on that point any further.
To start off the trio is none other than the cheekiest of them all Juju Jinich. He was born on May 12th, 2006 making him currently 12 years old. Pati Jinich's son Juju Jinich is a huge fan of chocolate and never misses a birthday celebration without it. His real name is Julian but has been nicknamed Juju since he is the last born.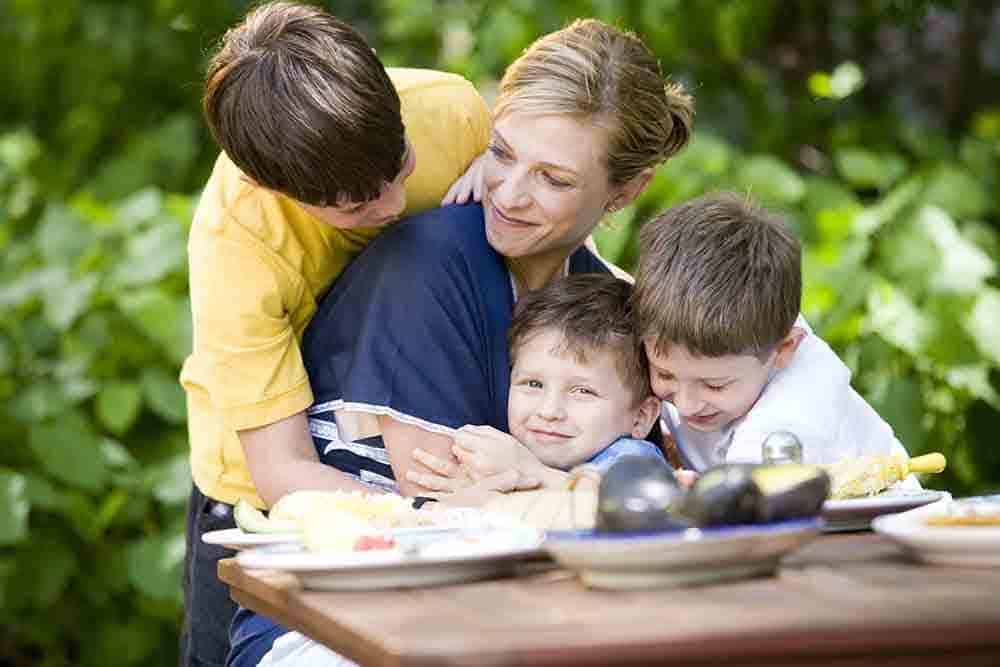 A study shows that the middle children are the quietest. This is the same for the Chef's household. Her 2nd born son and middle child is none other than Sami Jinich. Unlike his younger brother, he isn't outgoing as much. Born October 17th, 2001 makes him 16 years old. In fact, Sami had his Bat Mitzvah just the other day. Here's the link on how fun it was.
The oldest of them all is Alan Jinich. Chef Pati Jinich's Oldest son's date of birth may be concealed, but with a little bit of digging we found out that he is a young adult at probably 18 or 19 years old. Being the oldest comes with its responsibilities. Alan had to set out an excellent example for his younger brothers to emulate. As such, he is currently in college. Pati has made sure to hide the name of the institution to keep unnecessary attention from her boy.
However, being a chef meant that there was no way she was going to let him go off to college without actually learning a thing or two about cooking his meals. They did a special episode called Alan goes to college aired on PBS.
Pati Jinich net worth.
To have someone fill you up with food is one thing, but to have someone prepare a meal you will enjoy is another. Many people think that chefs and cooks earn a modest salary. That's not the case. When you mix it up with a few business ideas like Pati did, you most definitely have a strong footing to your career.
Pati Jinich's net worth is currently under review. She is very observant on letting the world in on how much she makes and quite secretive about the whole affair. PBS contractors have also respected her wishes and not leaked any bit of information concerning the same.
A good estimation would be that she has surpassed the million-dollar mark. Unlike most celebs who flaunt their wealth on cars and houses, she has also managed to keep that hidden. However, she does live with her husband and three boys in her lavish hacienda in Chevy Chase.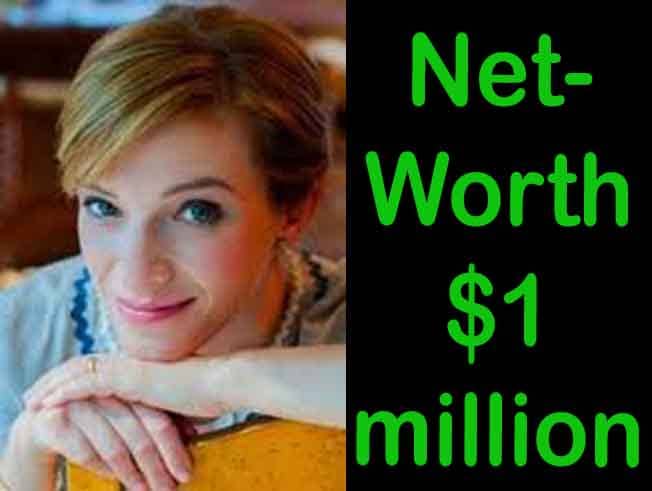 The better part of her fortune comes from her career as a chef. She has won many accolades for it. We'll highlight those in her career. Other sources include her other professional career as a political analyst, as well as being an author for two cookbooks. The books have registered worldwide sales since everyone wants a piece of her Mexican recipes.
Some online sources claims Patti  Jinich's Net Worth is $1 Million.
Meet her parents.
Many at times you may have heard the phrase, Like father like son or mother and daughter. However, for the case of our tamale specialist, it is quite the opposite. Her father was into more fancy things like jewelry. As such he was a part-time jeweler as well as an architect.
With time, he let go of his career and like Pati, chased his dream of opening up a restaurant. In fact, the whole family is all food enthusiasts. Her dad worked on a fonda Fonda that was rich in the Mexican delicacy Comida Corrida. Soon after, he opened up an Argentinian restaurant.
Her mother, on the other hand, was an artist and managed her very own art gallery.  It sounds like the ideal family doesn't it? You couldn't be any wrong. In a post on Facebook, the chef revealed that she comes from a broken home with both Pati Jinich's parents divorced. Not many people know this. However, separated or not, they have always put on their best foot forward in supporting their daughter in her career path.
Age, wiki-bio, career
| | |
| --- | --- |
| Name | Pati Jinich |
| Age | 46 |
| Date of Birth | March 30th,1972 |
| Place of Birth | Mexico |
| Profession | Chef, TV star, Political analyst, Author. |
| Net worth | Under review |
| Husband | Daniel Jinich |
| Kids | 3 |
| Height | Unknown |
| Weight | 115 lbs. |
| Body measurements | Unknown |
Born on March 30th,1972 means she belongs to the star sign Aries and currently 46 years when it comes to her age. The mother of three was born in Mexico and even got married there to her husband, Daniel. However, she soon moved to Dallas, Texas with her husband and started a new life there.
The then Dallas resident Pati Jinich is a Jewish in religion and Mexican by nationality. Her Jewish background comes from her grandparent who was refugees from Eastern Europe. The Jewish Chef is the last born in a family of girls of four. Her sister's names are Karen Drijanski, Sharon Cassab, and Alisa Romano in the order of birth. They are also well established in the cooking industry.
When it comes to her career, it's been one long journey. After moving to Dallas and working on her thesis something wasn't quite right. Away from her homeland, she got homesick. As a means of coping, the Dallas resident decided on whipping up some Mexican delicacies. Her neighbor wouldn't have enough of it and encouraged her to do it full-time.
However, Pati Jinich was set on another career path. The Mexican moved to Washington DC in pursuit of her Master's degree in Latin-American Studies. One of her many jobs included her post at the Inter-American Dialogue, a body set to foster democratic Latina American and Caribbean members' equality.
With food enthusiasm scorching through her veins, she enrolled at Maryland's most exceptional cooking school called L'Academie de Cuisine. It was here that she bumped into the executive director of the Mexican Cultural Institute. Soon after she started her cooking show and blog which was a huge hit, her show won the James Beard Award and was even nominated for an Emmy.
Chef Pati Jinich also published two books titled Mexican Today and Pati's Mexican Table that were a huge success. The renowned chef even got invited to The White House to cook for former president Barrack Obama's Cinco de Mayo Dinner.
Summary
Pati Jinich's career has been on an upward trajectory ever since 2007. Even though it is under review, her net worth is believed to also follow the same path. This comes so easy since she is married to her husband and three sons and who always support her. Chef Pati Jinich's parents are so proud of what she has accomplished at 46 years of age.