Aziz Ansari is a famous actor, who is also a filmmaker and a comedian. He is known for playing the role of Tom Haverford in the franchise "Parks and recreation." Also, he is well known for playing Dev Sha, in the comedy-drama series "Master of None." Together with his family, they lived in South Carolina. He schooled at Marlboro Academy and later went on to join South Carolina Governor's School for Science and Mathematics. He attended New York University and majored in marketing.
This article is going to focus on Aziz Ansari's net worth, girlfriend, height, and a little bit about his career and role in the film industry.
Who is Aziz Ansari's girlfriend?
The 34-year-old film star is currently single. He was in a serious relationship with his ex-girlfriend Courtney McBroom, a chef by profession.
The two met in August 2013, but their relationship ended two years later. The two met in Manhattan where Courtney was working at the Momofuku Milk Bar.
At that time, she did not know who Ansari was. One year later, the two met again at an even and immediately bonded.
Source:- Dailymail
After their breakup, the two were spotted together sometimes, making fans wonder if they were working on their relationship or it was just for the show.
Also, Ansari has also been seeing hanging out with Jennifer Lawrence a couple of times. At the start of 2016, Lawrence and Ansari had been seen on several dinner dates, even on Valentine's Day.
However, Lawrence later revealed that she and Ansari are nothing but great friends.
Career
While at the university, he started playing at the Upright Citizens Brigade Theater. He performed in various shows such as Invited Them Up.
He joined the television industry in 2005, he partnered with comedians Paul Scheer and Rob Huebel, and director Jason Woliner and shot short films. They created "Shutterbugs" where Ansari and Huebel player child talent agents.
Ansari and Scheer later played Criss Angel-style Goth magicians in the short film "Illusionators."
Source:- Facebook
In the year 2006, MTV came up with a series that featured the group. It was released on April 5, 2007. The show ran for two seasons, and MTV offered the group a third season, but they chose turned down the offer.
After that, he appeared in the TV series 'Master of None", which became a global success. This comedian has also appeared in other movies such as "30 Minutes or Less", "Funny People," "Epic," "Cruel Summer," and many more.
Aziz Ansari's Net worth is $20 Million as of 2022.
Although he has grown now. Aziz kicked off his career at the Upright Citizens Brigade Theatre and eventually appeared on the show Invite Them Up.
In 2005, he was considered for the show "Hot Standup," and through this, he got a lot of support from his fans from all over the world. It wouldn't be wrong to speculate that most of Aziz Ansari's Net Worth is collected from his career as a comedian.
Also, he got an award for the Best Standup at the Jury Award, at the Comedy Arts Festival in 2006, in Colorado. He has also done some standup specials such as the Live at Madison Square Garden, Dangerously Delicious and so much more.
He is also involved with Netflix in a new TV series.  With all these roles, Aziz Ansari net worth is estimated to be 20 million dollars.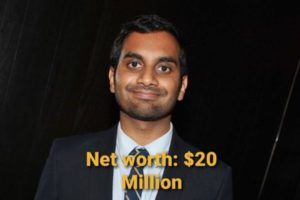 Source:- Facebook
Height: how tall is Aziz Ansari?
Aziz Ansari is tall, dark, and good looking guy. He stands at 5'6 and is famous all over the world. There is no information about Aziz Ansari other body measurements expect his height, but based on his personality, he is a good looking soul with a notable sense of humor, and of course, many women flock around him, just to get his attention.
Wiki bio
Source:- Facebook
| | |
| --- | --- |
| Name | Aziz Ansari |
| Nationality | America |
| Profession | Actor, Filmmaker, Comedian |
| Net Worth | $20 million |
| Affair with | Courtney McBroom |
| Height | 5'6 |
| Religion | Muslime |
| Age | 39 |
| Marital status | Single |
Please comment on this article about Aziz Ansari's Girlfriend, Height, and Net Worth.