One of the most notorious drug Lord nicknamed, King of Cocaine was none other than Pablo Emilio Escobar. Even up to his death in 1993 via mass shooting, he was always on the wrong side of the law. However, one person was still by his right hand; his wife, Maria Isabel Marieta or also known as Victoria Eugenia Henao Vallejo. Here are seven facts about Pablo Escobar's wife that are usually left out in his story.
Maria Isabel Marieta is of Colombian descent.
She had her origins in the Emerald filled country of Colombia also famous for its coffee and the myth of El Dorado. Escobar's wife was born in the year 1961 to her Colombian parents. Her blood ties all speak of her Colombian roots where she got raised. Furthermore, she has two siblings with the oldest named Carlos Mario Henao Vallejo and Pastora Henao Bayen.
Maria Isabel Marieta was a rebellious teenager.
The love story between the two star-crossed lovers had no limitations whatsoever. While he was establishing his drug empire, the King of Cocaine happened to fall in love with one of his stooges' sister. The minion's name was none other than Carlos Mario from house Henao and his sister, Maria.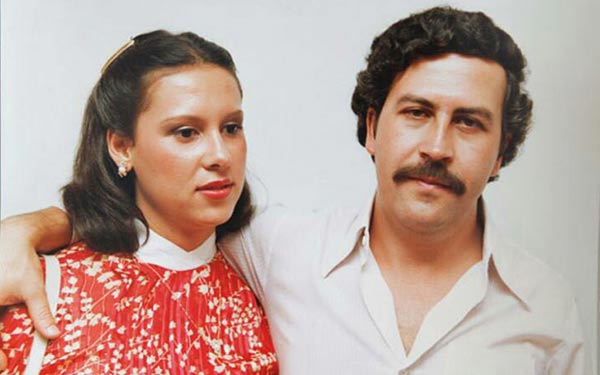 She was a young woman barely discovering her body changes at age 13 but instantly fell in love with the drug baron who was 24 at the time. Their love was met with aggression and forbidden in the eyes of the Henao family. It was not only because of their 11-year age difference but also because they regarded Pablo as a man of low class. Hot-headed and crazy in love, the pair eloped and got married in March 1976 while she was only 15 and her husband at 26.
Her family with Escobar meant the world to her.
The newlyweds welcomed their first son Juan Pablo in 1977 and their only daughter Manuela Escobar Henao in the year 1984. Juan later changed his name to Sebastian Marroquin for reasons that will be highlighted next.
She defied her own family and severed ties with them to build her own with the drug trafficker. The drug baron's legacy staggered on the killing of over 2000 people. Her husband was an evil man responsible for destroying countless families, but she remained by his side.
Even when he had countless affairs with other women to which she was well aware of, she remained loyal to him. Many described this relationship as toxic, but only she knew what she was doing. Besides, there was no going back to her own family since that ship had sailed with their eloping.
Maria Isabel Marieta got widowed at 31
The drug ring tightened as the authorities finally cracked down on the King of Cocaine's dealings in 1993. Officer Brigadier Hugo Martinez in charge of the Search Bloc, a SWAT team's equivalent in Colombia used trilateration – a fancy way of naming tracking – to locate him.
On December 2nd, 1993 the authorities intercepted his call to his son and found him hiding in Medellin. They got met with heavy gunfire to which the drug Lord fell a victim. He suffered multiple gun wounds to his leg and through the ear.
There have been many theories which suggest that he may have committed suicide as a last resort. After all, he always talked about taking the easy way out should he find himself cornered. Furthermore, there is also the fact that it was never proven which officer fired the shot. However, this could have been the best due to security reasons. After all, they had just taken the head of the cartel!
She became a refugee at age 33.
The aftermath of the drug lord's death ensued a state of struggle for dominance in the cartel. Moreover, his former enemies also emerged wishing to seek revenge upon his remaining family. Pleading could only accomplish so little.
The mother of two feared for her son's life and sort refuge in Mozambique, Brazil and finally settled in Argentina she raised her two kids. It is here that she changed her name to Maria Isabel Santos Caballero. Juan changed his name to Sebastian Marroquin whereas Manuela changed hers to Juana Manuela Marroquin.
Isabel Santos Cabellero is quite hardworking.
Even in foreign soil working under a different alias, she still managed to get a job and excel at it. She became a successful real estate entrepreneur in a bid to provide for her family. Her son also followed her footsteps and took on a clean slate in rewriting his father's wrongs.
He became a successful architect, designer, and lecturer. Furthermore, he gives motivational speeches from time to time about his ordeal. That's not all. The 41-year-old is also a published author with his book, Pablo Escobar: My Father.
Maria Isabel Marieta never remarried.
There has been no news of her again ever since. Although we could stand corrected on this since her life after her ordeal has been pretty much under wraps, she remains faithful to her late husband up to this day.