In a world where gender equality is strongly upheld, transgender activism does not come as a surprise. However, when a young person from the LGBT seems to be advocating for the rights of these people, then it becomes a big deal. Jazz Jennings is among the youngest activist of transgender in the United States of America. Here are a detailed understanding of the young activist age, career, net worth and salary, birth name and date, ethnicity, grandparents, and parents.
Jazz Jennings Net worth.
Besides being a transgender activist, she is an internet star, an author, and an actress. How much do you think is her net worth and salary? Presently (2018) Jazz Jennings net worth stands at $300,000.
Her salary remains hidden at the moment but it is speculated to be a lot. You will agree that this net worth is quite a fortune for any teenage person out there. Acting and most especially transgender activism are the primary sources of income that give the teenager such substantial net worth and salary.
Jazz Jennings career as an actor began when she was only six years through the appearance of her parents in various TV shows. This gave her a platform to also appear on numerous shows including but not limited to The Rosie show and 20/20 where her transgender story was covered which gave her the current fame she is enjoying.
Her documentary premiered in 2011 and aired on Oprah Winfrey titled I am Jazz: A family in Transition touched many souls. Two years after the release of this show, the young author established the Purple Rainbow Tail aimed at raising money for transgender kids. During the same year, she authored a book alongside Jessica Herthel titled I Am Jazz. Her career is the reason behind her appearance in the GLAAD Media Awards in 2014 as a guest. During the same year, Time Magazine listed her among the 25 most influential teens.
Other than the above, she thanks her career for enabling her to be part of Clean & Clear commercials of Johnson & Johnson and a contributor of the NOH8 campaign. Like in 2015 the activist was lucky again to release a show (I Am Jazz) in 2015 that aired for four seasons on TLC TV. Here recent career achievement is the release of her memoir, "Being Jazz: My life as a transgender tee in 2016".
Meet Jazz Jennings parents and grandparents
Greg and Jeanette are Jazz Jennings parents. They discovered that although their child was male, he strongly resembled and behaved like a girl. Like any normal parent, Jennings parents got worried hence took their child for a checkup, and in 2004, she was diagnosed with an identity disorder.
Although the name of Jazz Jennings grandparents is not disclosed to the public, she cannot fail to thank her grandparents and parents for their efforts. She says she draws her strength in fighting for the rights of the LGBT community from them because when she chose to identify with the female gender, they were in total support of her decision.
Her grandparents and parents even went a step further and established the TransKids Purple Rainbow Foundation in 2007. You may have even seen her grandmother alongside the little actress in various shows and she always talks positively of her granddaughters gender Not every family would support their daughter in such mannerism. You now understand why she is forever grateful to her grandparents and parents.
What is Jazz Jennings Birth Name? her real name, age, birthday
In most cases, transgender persons tend to change their name once they discover what they want in terms of their identity. Well, this was not the case for the TV star because her present name Jazz Jennings was her birth name, but you can refer to her by her nickname Jared. Currently, Jazz Jennings age is 18 as she was born on 6th October 2000.
Wiki-bio, facts
The multitalented activist Jazz Jennings is not the only child of her parents as she has three siblings (Ari Jennings, Sander Jennings, and Griffen Jennings).  She stands at 5 feet tall and 2 inches and weighs nearly 55 kilograms. Although her dress size is not clear, she wears a shoe size 6.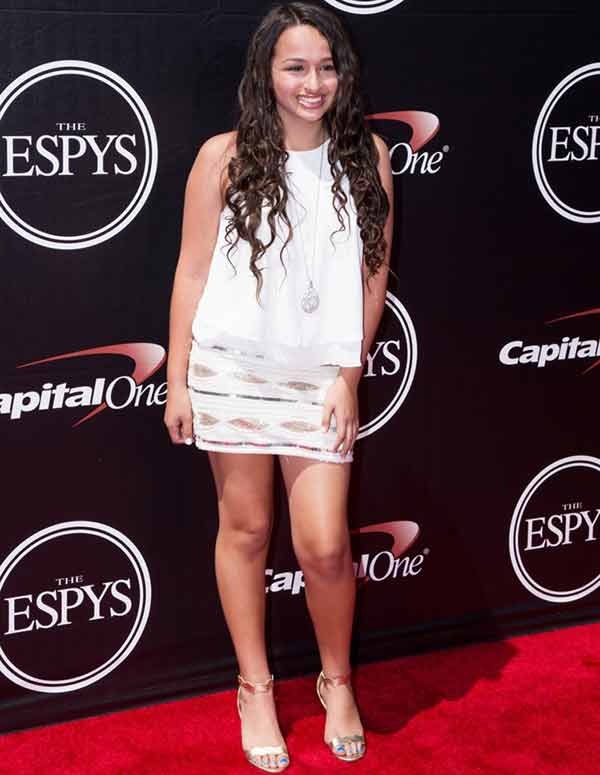 In case you are comfortable with her identity, you can consider making smart moves on her because she is still single. However, she admits that at some point she dated and is hopeful that she is going to find a partner when the required time comes.  She owns a YouTube channel where he posts educative videos of transgender. You can consider subscribing to the channel to better understand the subject matter.
Summary
Here is the age, career, net worth and salary, grandparents and parents, birth name and date of the youngest transgender activist-Jazz Jennings.
Facts about Jazz Jennings
| | |
| --- | --- |
| Name | Jazz Jennings |
| Nickname | Jared |
| Age | 18 |
| Birthdate | 6.10.2000 |
| Nationality | American |
| Ethnicity | White American |
| Parents | Greg and Jeanette Jennings |
| Siblings | Ari, Sander and Griffen Jennings |
| Career | Transgender activist, Youtuber, actor, and author |
| Net worth | $300,000 |
| Weight | 55kgs |
| Height | 5 feet 2 inches |