The mountain guy, hunter, and blade smith, Jason Hawk is one of the leads of the show Mountain Men. He has lived the life of the mountains since his birth, far from all the modern-day technology.
His lifestyle and survival skills demonstrated on the shows Mountain Men and No Man's Land are the reason for his popularity and fandom. Currently, there is news circulating about his illness and his exit from the popular show.
This article explores all the details about Jason Hawk, his career on Mountain Men, and his illness. Also, read his latest health updates.
Jason Hawk Wikipedia
Born on 25 March 1960 in the Ozarks Mountains, Hawk explored nature and learned survival skills from a very young age. The skill that he appreciates the most is knife making.
He indulged in activities like hunting and also received a hunting license at the age of 15. Hawk's father, from whom he learned a lot of skills, was his greatest inspiration.
Growing up, his father exposed him to critical and serious survival skills as he had to face harsh situations in his everyday life. Considering Jason's lifestyle and survival skills, many reality shows showed interest to cast him.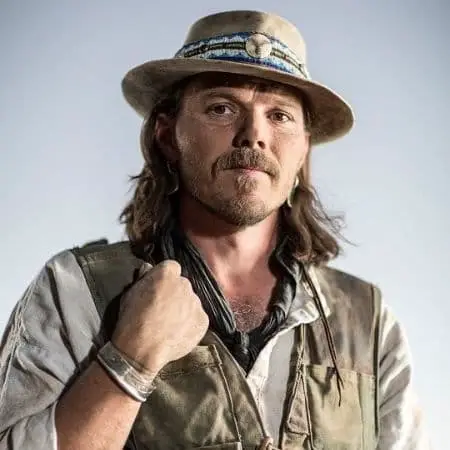 In 2014, he got exposure and the limelight because he was cast in the reality show No Man's Land, a show that featured the life of Americans living in remote areas. He earned huge recognition from this show and starred in all eight episodes.
The tipping point of his career was the time when he was selected as one of the members of the reality show Mountain Men. He appeared in the show in 2016 as one of the lead members.
His amazing skills, with no professional training, were the center of attraction in the show. Hawk's fans were astonished by his lifestyle.
A life with no water, no electricity, no internet, and many other basics, in the 21st century, is almost unimaginable. The TV personality starred in the show until the 10th season. However, due to some health concerns, he had to leave the show.
Jason Hawk is a cancer survivor.
Jason Hawk is still alive as of 2023. The doctors diagnosed him with cancer at the age of 45. The TV personality had to undergo chemotherapy, radiation exposure for five days a week, and a few months of stronger chemotherapy.
This difficult situation got worse when Mountain Men didn't renew his contract when he needed it the most. Thus, Jason and his wife started raising money through Go Fund Me for his treatment.
They raised roughly around $20,985 for their medical expenses so far. As of now, he is undergoing treatment.
Due to the illness, Jason preferred to stay out of the TV industry and stopped appearing in the show Mountain Men, disappointing his fans. He wishes to focus on his health till he recovers fully.
How is Jason Hawk Doing in 2023?
Hawk is now living in his homeland with his family. The Hawk family has been trying to raise funds for Jason's treatment and medical expenses.
Jason expects to get along with his knife business soon after his full recovery.
Jason Hawk isn't fully recovered yet but according to his comment as a reply to one of his fans, he is recovering, but slowly.
To support his treatment and his family, he is still making and selling knives. Due to his expertise in making knives, people absolutely loves his products and these knives sells out pretty quickly.
Family
Hawk is married to Mary Hawk. Mary is an expert in herbal medicine, who accompanies Jason with his survival skills in Ozark Mountains in all ways possible.
Jason has been with his wife Mary since 2008. He has two daughters named River and Rose Haw.
He also has a son Kamui Hawk, who isn't a child as a result of his relations with Mary. Kamui is Jason's son from his earlier relationship.
He has also co-starred in the show Mountain Men with Jason. Despite critical circumstances, he is living a happy life in the mountains with his supportive wife and loving children.
Why did Jason Leave Mountain Men?
The primary reason behind the departure of Jason Hawk from Mountain Men is his illness. The TV personality suffers from cancer and is seeking help from the public to get over it.
In the 10th season, Hawk wasn't able to complete his filming duties with the show. Following that, the producers from the show nulled his contract.
The mountain man is currently undergoing treatment. We hope to see him soon with the other cast members on the show.