If you are a fan of HGTV shows, chances are you've seen the popular show "100 Day Dream Home." The reality series has been on air since 2020, and viewers have been loving it.
The show has wrapped 3 successful seasons, with the latest one ending on April 2022. So as it has been almost a year, the "100 Day Dream Home" fans have been growing anxious with no official news about a 4th season.
Some have even speculated that the show has been canceled. But is it true? Will "100 Day Dream Home" return with the 4th Season, or is the fans' fear genuine?
So, please stick with us to find out all the details about the show, including any controversies and lawsuit news.
About HGTV Show, "100 Day Dream Home:" Who Are the Cast?
Just like other home renovation shows on HGTV, "100 Day Dream Home" is a lifestyle reality series where the hosts strive to create dream houses for their clients. The excitement lies not only in watching a home built from scratch but also in seeing if the hosting couple can complete the project within their 100-day deadline.
HGTV often casts husband-wife duos as hosts, and "100 Day Dream Home" is no exception. The show features Mika Kleinschmidt, a 38-year-old bubbly real estate agent, and her husband, Brian Kleinschmidt, an empathetic developer, as the dynamic duo.
Though the fun couple is usually seen goofing around and mocking each other, they take their work seriously and have never missed a 100-day deadline as per the show's theme. Apart from being the hosts of "100 Day Dream Home," the couple own "Dirt 2 Design," a home renovation and building company.
The Kleinschmidts disclose that pre-planning is the secret to constantly impressing their clients with their ideal home.
Location: Where is "100 Day Dream Home" Filmed?
"100 Day Dream Home" is usually filmed in Tampa city and other cities in Florida. According to the source, the show's hosts live in Riverview, just outside Tampa, and they usually build dream houses for their clients around Apollo Beach, Plant City, downtown Tampa, Pinellas Park, and Seminole Heights.
While the show is only based in Florida at present, Mika and Brian take advantage of every chance to feature the beauty of Florida.
Application: How to Get on "100-Day Dream Home"?
With the end of Season 3, many viewers are curious to know how they can be on "100 Day Dream Home." Well, the process is straightforward; all you have to do is follows this simple step,
You need to send an email to [email protected] However, in the email, you must mention your full name and location, your latest picture of your house, and a description of your dream home.
Also, if you require a consultation, you can call (813) 313-0045.
Is "100 Day Dream Home" Cancelled or Renewed?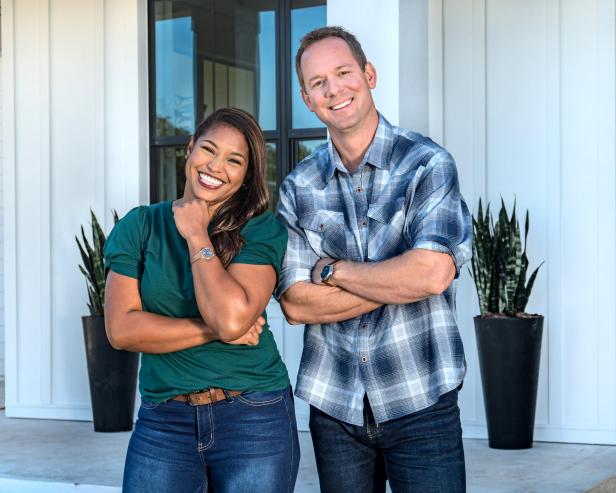 If you're a fan of "100 Day Dream Home," you've probably been eagerly waiting for a new season to arrive. Although the 3rd season was completed in April 2022, there has been no formal statement regarding Season 4.
But, if you think the show is canceled, you are mistaken. The good news is "100 Day Dream Home" will be back with its 4th Season in the spring of 2023.
Mika, the show's co-host, posted a picture on her Instagram in August 2022, stating, "Back at it for season 4 100 Day Dream Home, and it feels good to be out in the field again!" Since then, she has been sharing short clips and pictures from their Season 4 shoot on Instagram.
So, don't worry, viewers, "100 Day Dream Home" is not canceled, brace yourself until HGTV announces the official date for its release. Until then, you can follow the hosts on their social media handles for a little sneak peek.
"100 Day Dream Home" Fake or Real? Controversies
Well, HGTV claims "100 Day Dream Home" to be a reality show. And from what it seems, the TV show does not look fake.
However, despite being a reality show, it cannot be denied that some parts of the show are scripted, but the house built within 100 days is real. However, some viewers have raised concerns that if the house is built under 100 days, how can it be trusted for quality and safety?
They also questioned if the house is safe for extreme climate situations like tornados in Florida. Yet, the show's co-host Brian Kleinschmidt assures viewers that everything captured on the show is real and true to life, with all its ups, downs, and in-betweens.
Do They Keep the Furniture on "100 Day Dream Home?"
According to the information available, homeowners have the option to keep the furniture used on the show. It is common for viewers to wonder if the furniture is just a temporary addition for the purpose of filming and will be removed later.
The reality, however, is that homeowners can keep the furniture for good. In fact, the furniture is specially purchased or customized to meet the needs and preferences of the homeowners.
This places additional stress on Mika and Brian, as they not only have to finish renovating the house within 100 days but also have to make sure the furniture fits the homeowners' tastes and requirements. But despite the pressure, the "100 Day Dream Home" presenters are happy to wow their clients.
"100 Days Dream Home" Lawsuit and Complaints
"100 Days Dream Home" does not appear to have any lawsuit. Likewise, the show's clients have not expressed any complaints, which indicates that they are satisfied with the work done by Mika and Brian.
However, despite the lack of complaints from clients, it is noted that some viewers have raised questions about the safety of the show. This may be because the show involves making significant changes and building a customized house from the grounds in the interval of just 100 days.
Despite these concerns, it is essential to note that there have been no breaches of laws or accidents on the show. Hence, based on the available information, it is reasonable to assume that the program follows all legal and safety regulations and is not the subject of any lawsuits or complaints.